Ways to Make Family Dinner Fun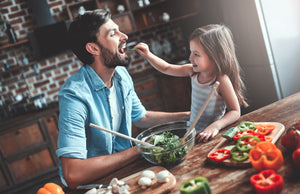 More ideas to make dinner-time fun:
Try some of the ideas below to make your dinnertime a blast!
1. Host a Family Picnic
You can do this indoors or outside: it's equally fun either way! Set up a blanket, get out the picnic basket, and serve your dinner on the floor. It's amazing how special this feels to kids.
2. Fondue Dinners
This is one of my family's favorite activities. With older kids or adults, hot broth fondue to cook raw meats and veggies makes for an awesome dinner. For families with younger kids, the hot broth and the raw meat are potential hazards, so we normally stick to cheese fondue. And, of course, chocolate fondue for dessert is a must! I highly recommend an electric fondue pot that plugs into the wall, so the liquid stays evenly hot.
3. Play restaurant
Put your kids in charge of serving the meal. (Older kids could prepare it as well!) They can tell you the daily specials, take orders, bring out plates, and clear the plates at the end. My kids love doing this—they will often draw up elaborate menus and restaurant signs. As a plus, getting them to clear the table is not a struggle for this one meal!
4. Break out the fancy tableware and candles
There is something about candles and a tablecloth that puts everyone on their best behavior. Whether you want to celebrate a little accomplishment or just relish the fact that it is Friday, you can make a regular meal feel extra special and fun by setting the table as your might for company.
5. Theme nights
Having a theme seems to make the environment a little livelier at times. Themes could include food-focused ones like "Taco Tuesday", "Slow Cooker Sunday", and "Make Your Own Pizza Night", or your theme could be food from different countries around the world. You could have your family dress the part, have some conversation prompts, or have each family member do a little research and present what they brought to the table.
6. No silverware dinners
Some days it is hard to get my kids to use the silverware that is at the table. So occasionally, we make a meal of all finger foods and officially ban silverware. Foods such as savory dips with pita bread, cheese cubes, sliced fruits and veggies, and kabobs on skewers all make great options. The kids love it, and if I am being honest, it is pretty fun for the adults to act like kids again, too!