Mediterranean Movement Launches Weight Loss Coaching & Mobile-Friendly Website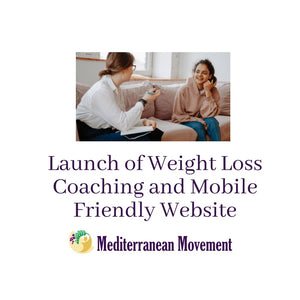 The new website includes 40+ pages of information, many new recipes, and client-requested offerings of nutritional counseling, accountability groups, and weight-loss coaching.
Mediterranean Movement launches personalized Mediterranean Diet resources, including Weight Loss Coaching with a certified Weight Loss Dietitian, personalized one on one nutrition coaching, and food accountability groups.
The new mobile-friendly website boasts a cleaner, easier to use look, categorized recipes with faster loading speeds, and over 40 pages of dietitian-approved information
Many never-before-seen recipes, including categories such as Crockpot Meals for Kids, Budget Friendly Recipes, Fun Dinner Ideas, and much more
- Today the Mediterranean Movement, a company that helps families optimize their health through Mediterranean Diet living, launched a new viewer-friendly website and a host of new client-requested offerings.
The new website was built with the user in mind, to ensure that customers can easily and smoothly find what they are looking for. This includes enhanced recipe categories and over 40 pages of dietitian-approved information. The website is optimized for mobile, and clients will be delighted to find that the droll-worth food images now come with much faster loading speeds.
The brand-new offerings include:

Weight Loss Coaching with a weight loss-certified registered dietitian
One-on-one personal diet coaching and healthy eating coaching with a dietitian
Food accountability groups and group support
Customized Meal Plans that include 21 days of Mediterranean Diet meals
Meal Planning Workshops
"We are so excited to be able to offer weight loss help to our clients. Our weight-loss-certified Dietitian has an impressive background in helping adults reach a healthy weight. Many customers love the Mediterranean Diet for its extensive health benefits and would also like some help reaching specific weight targets. Our new offering meets both of those goals and will be a huge benefit to people who have struggled with their weight, especially during quarantine" said Jamie Adams, co-founder of the Mediterranean Movement and Registered Dietitian.
The new website is mobile-ready and designed to be easy to use. "I have always loved the Mediterranean Movement recipes, and the new website allows me to find what I'm looking for in a much easier way. I love the new website!" said longtime customers, Lindsey F of Alpharetta, GA.
Clients will be delighted with the brand-new recipes, including many quick and delicious options for picky eaters and busy families. Recipes span categories including breakfast, main dishes, desserts, soups and salads, dressings, gluten-free, dairy-free, and vegetarian. "The new services help us meet the needs of our customers in some of the most requested areas, including weight loss coaching, personal diet coaching, and accountability groups," said Ashley Keating, co-founder of the Mediterranean Movement. "The new website provides a better experience, on the computer and the phone, for anyone looking for delicious, easy, family-friendly recipes. We are delighted to be able to serve the community in this way." The website launched in the summer of 2020 and is available for use today.
Customers who are interested in cooking up some new recipes or accessing some of the new services should visit the website.
Company Summary
The Mediterranean Movement was founded to help families optimize their health and well being. By providing mouth-watering, family-friendly recipes, and science-backed nutritional information in line with Mediterranean Diet principles, Mediterranean Movement helps clients effortlessly and deliciously enhance a family's way of eating. The Mediterranean Movement offers dietitian-created meal plans, nutritional coaching, accountability groups, resources, recipes, and communities, in line with the principles of the Mediterranean Diet. Eating a Mediterranean Diet can have a dramatic impact on a person's mood, overall quality of life, and risk for illnesses like cancer, Alzheimer's, and heart disease. The Mediterranean Diet has been named the Overall Best Diet by health experts three years in a row. The Mediterranean Movement is based on Mediterranean Diet principles.
Are you looking to continue to enjoy sweets while living a healthy lifestyle? 
The Mediterranean Diet can help prevent diabetes, reduce heart disease risk, promote weight loss, and help you live a longer, healthier life. It's backed by decades of research.
But the truth is, there's a lot of misinformation out there! It can be really tough to get started.
If you're struggling to begin, our Starter Guide & Recipe Book is the perfect first step! It gives you:
Important principles to start using now
A collection of easy, delicious recipes to make at home
Actionable steps from a nutrition expert
Best of all? It's completely FREE -- our gift to you! You can snag your copy today!