The Mediterranean Diet: What You Need to Know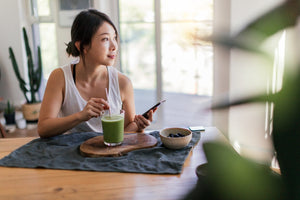 The Mediterranean Lifestyle: A Cheat Sheet
What is it?
The Mediterranean Diet is based on the way people living in the Mediterranean haven eaten and lived for hundreds and years. People generally focus on eating whole, real foods and on avoiding extra sugar and processed foods.
This lifestyle also promotes healthy physical activity, spending times with friends, and reducing stress.
This way of eating has been scientifically shown to promote weight loss and to prevent a host of diseases such as cancer, heart disease, and Alzheimer's. It's been called, "the healthiest diet in the world" for FIVE years in a row!
How to follow the Mediterranean Diet:
The Ideal Plate is made of:
½ vegetables
¼ protein: plant sources like beans (often), seafood (often), or other animal like chicken (occasionally)
¼ healthy carbs (fruit, or complete grains like brown rice or quinoa)
A sprinkle of health fat (like avocado or olive oil)
What to Eat:
Eat all the time: Vegetables, fruits, fish, seafood, beans, legumes, nuts, seeds, whole grains, healthy fats, extra virgin olive oil, egg whites
Eat occasionally: Whole eggs, dairy, chicken, turkey
Eat rarely: Red meat
Avoid entirely: Added sugars, artificial sweeteners, highly processed foods, processed meats, trans fats, white bread/ white pasta.
What to Drink:
Drink all the time: Water, bubbly water, water with lemon or lime, black coffee, unsweetened tea
Drink occasionally: Nut milk, dairy milk, wine
Drink rarely: 100% fruit juice
Avoid entirely: Soda, sugar-sweetened drinks, artificially sweetened drinks
What to Do:
What do you do to follow this Lifestyle?
Do these things all the time: eat with others, spend time in nature, engage in healthy physical activity like walking, cultivate relationships with friends and family
Reduce or eliminate these things: emotional eating, all day snacking, unhealthy stress
Build your meals around real, whole foods, such as:
Vegetables: Spinach, kale, broccoli, cauliflower, carrots, cucumbers, tomatoes, eggplant, zucchini, sweet potatoes, potatoes, pumpkin, beets, etc
Fruits: Berries, bananas, apples, peaches, plums, mangos, lemons, limes, pears, mango, starfruit, etc
Seafood: Fish of all types (salmon, tilapia, tuna, etc), as well as clams, shrimp, oysters, lobster, etc
Beans: Lentils, chickpeas, black beans, navy beans, includes pasta made from 100% lentils or beans
Grains: Breads and pasta made from 100% whole grain wheat, barley, quinoa, amaranth, brown rice, etc
Eggs: Egg whites (often) and egg yolks (occasionally)
Nuts: Almonds, pistachios, cashews, walnuts, etc
Healthy Fats: Extra virgin olive oil, olives, avocados, avocado oil, coconut, nut oils, etc
Poultry (occasionally): Chicken and turkey, including ground versions and whole meat
Dairy (occasionally, if well tolerated): Cheese, yogurt, Greek yogurt, cottage cheese, etc.
Want More Info? Learn more about the Principles here or watch our video on how to transition to a Mediterranean Diet.
How We Can Help:
If preventing ailments and health issues through better nutrition is a goal of yours, we invite you to try out our Mediterranean Meal Plans.
Created by our Dietitian Nutritionist Jamie with buys people in mind, our plans incorporating Mediterranean Diet Principles throughout each week.
You get a well-balanced diet, with way less stress. Each meal plans comes complete with an organized grocery list to save you time. 
Check them out today!