Whole Grains: A Mediterranean Staple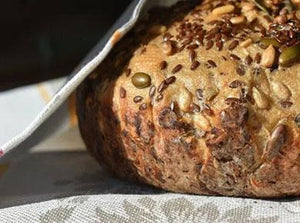 A Big Part of the Mediterranean Diet
Whole Grains
Packed with fiber, protein, B vitamins, and trace minerals – whole grains are a staple in the Mediterranean diet and can be included with most meals. Which grains have you tried? Traditional grains of the Mediterranean Diet include:
Barley
Buckwheat
Bulgur
Couscous
Farro
Millet
Oats
Polenta
Brown Rice
Quinoa
What makes a grain "whole" might you ask? Well, whole grain kernels are made up of three nutrient rich parts:
Bran – the outer layer of the kernel filled with fiber, iron, B vitamins (thiamin, riboflavin, niacin, pyridoxine, and folic acid), trace minerals (zinc, copper, selenium, and manganese), and phytochemeicals (plant compounds with antioxidant properties)
Endosperm – the starchy carbohydrate rich center with small amounts of B vitamins and minerals
Germ – the central core of the kernel packed with nutrients including healthy fats, vitamin E, B vitamins
Whole Nutrition: Unlike refined grains, which are stripped of nutrients found in the bran and germ during the refining process, consuming whole grains provides you with "whole" nutrition that support numerous health benefits:
Fiber – helps maintain blood glucose control, lowers cholesterol, and improves digestion by helping waste move through the large and small intestines
Vitamin E – protects cell membranes and is a powerful antioxidant
Iron – helps transfer oxygen to tissues and muscles which can help fight fatigue and boost immunity
B Vitamins – while each B vitamin has its own specific role, together they help maintain healthier hair, skin, and nails; form red blood cells which helps boost energy; and promotes healthy immune and nervous systems
Zinc – plays a variety of roles in our bodies including immune function, creation of proteins and DNA, wound healing, and taste and smell sensory
Copper – helps our bodies absorb iron
Manganese – an essential nutrient that our body needs to help digest, absorb, and utilize other nutrients including proteins, carbohydrates, and many vitamins and minerals
Selenium – a powerful antioxidant, that helps prevent cellular damage from free radicalsNutrients and Health: The combination of nutrients found in whole grains has lead to a multitude of health benefits! Consumption of a diet rich in whole grains has been associated with:
Decreased insulin resistance and risk of type 2 diabetes
Lessened inflammation
Healthy digestion
Better weight maintenance
Improved cholesterol levels
Lower risk of stroke and heart disease
With all of the health benefits associated with whole grain consumption, no wonder whole grains are a staple in the Mediterranean Diet!Now, time to eat: Here are a few ways you can start incorporating more whole grains into your diet at every meal, anytime of day:
Breakfast:
Open faced egg sandwich on whole grain toast
Overnight oats
Apple walnut & cinnamon oatmeal
Zucchini Bread made with amaranth
Banana walnut muffins made with buckwheat flour
Lunch:
Wild rice salad
Kale & quinoa salad
Mediterranean chicken wrap on a whole grain pita
Falafel wrap on who grain tortilla
Bulgur wheat & tabbouleh salad
Dinner:
Baked chicken over barley
Wild salmon & avocado with a side of quinoa or wild rice
Pesto pasta with zucchini and chickpeas
Grilled shrimp and vegetable skewers over whole grain orzo
Quinoa stuffed peppers
Prioritizing whole grains at your breakfast and lunch meals will help keep you feeling fuller longer and stabilize your blood sugars throughout the day – no more mid-afternoon crash! To ensure you receive all the benefits whole grains can provide, be sure to mix up you grains from day to day and meal to meal as each grain contains a different nutrient profile. Have some fun swapping out grains with one another, explore, experiment, and enjoy!
Looking for the proven path to the Mediterranean Diet?
The Mediterranean Diet can help prevent diabetes, reduce heart disease risk, promote weight loss, and help you live a longer, healthier life. It's backed by decades of research.
But the truth is, there's a lot of misinformation out there! It can be really tough to get started.
If you're struggling to begin, our Starter Guide & Recipe Book is the perfect first step! It gives you:
Important principles to start using now
A collection of easy, delicious recipes to make at home
Actionable steps from a nutrition expert
Best of all? It's completely FREE -- our gift to you! You can snag your copy today!