Balsamic Vinegar Reduction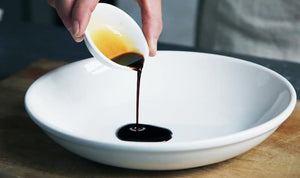 Balsamic Vinegar Reduction
Otherwise known as a healthy, yummy finishing sauce, this balsamic vinegar reduction recipe is as easy as can be. All you need is a good quality vinegar and a little time!

Even flavored or infused vinegars can be made in reductions. Balsamic Fig is a personal favorite.

Reducing vinegar makes it sweeter and thicker without adding any sugar at all. It's perfect for drizzling on veggies, meats, and even fruit. Virtually any kind of food gets a boost from a vinegar reduction.

What will your favorite flavor be?
So Easy
Friends, balsamic vinegar reduction is a little bit of culinary magic that transforms ordinary meals into amazing! And, it could not be easier.

You only need ONE ingredient and a bit of time, and you will be rewarded with a thick, tangy finishing sauce that is delightful on all kinds of dishes.

You will add about a cup of vinegar to a pan over medium-high heat. Slowly bring it to boiling.

Once you have the vinegar boiling, reduce your heat to medium-low and let it cook. You will want to stir it often. You want it to be bubbling but not a hard boil.

Continue to cook until it has reduced by about half.

You can tell is finished when it will cling to the back of a spoon, like a syrup. You can use hot, or you can cool and store in the fridge for several weeks. (That's another beautiful thing about this sauce: it will keep for weeks!)
Try This Balsamic Vinegar Reduction Recipe on Everything
Try it over tomatoes, basil, and mozzarella for an amazing salad. Or drizzled over grilled or roasted veggies; I love it on roasted broccoli and cauliflower.

This kind of syrup is yummy over meats, too, and can elevate chicken breast from ho-hum to restaurant-quality.
Is Balsamic Vinegar Healthy?
Yes! According to
consumer reports
, "Vinegar may improve insulin sensitivity in people with type 2 diabetes and slow the digestion of carbohydrates to some extent."
But even with no health benefits at all, vinegar is a great addition to most diets. It's really low in calories, with some vinegar having no calories at all, and most balsamic vinegar having between 5 and 20.
It's also low in sodium, even though it adds a ton of flavor!