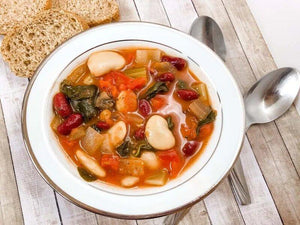 This veggie soup recipe is exactly what fall and winter call for! Tuck into this warm, cozy bowl of filling, nutritious vegetable soup, perfect for your plant-based, Mediterranean Lifestyle.
Soup... or Magic?
Veggie soup is a little bit like magic. It takes just a few minutes to make a huge vat. Then you can eat it all week long! It's delicious and filling, full of vitamins, nutrients, and antioxidants, and it is low in calories. Eating veggie soup makes you feel warm and happy inside. It's also a great way to encourage yourself (or your kids) to eat tons of veggies when you cannot stand the thought of another salad.

On really cold winter mornings, I love eating veggie soup for breakfast (it's unusual, I know). Most other people I know eat it as lunch or dinner. This soup is also a great appetizer alongside your main course. The options are virtually effortless. Veggie soup for the win! (If you want more vegetable soup recipes, check out our page

here

. This

pumpkin crockpot soup

is a family favorite.)
This Veggie Soup Recipe
You almost cannot go wrong with this recipe. The base soup, made of broth, diced tomatoes, tomato sauce, and seasoning will be awesome with whatever veggies you have. Don't restrict yourself to just what is written here. Do you have cabbage that is about to go bad? Chop it up and toss it in alongside the celery. Leftover broccoli, carrots, or lentils? They will all be delicious in the soup! Even frozen veggies are perfect, since the vegetables soften up anyway.
We recommend that you thaw the frozen veggies before popping them in the soup so that any excess water does not water down the final soup. You can also experiment with the amount of liquid, based on your personal preference. More liquid will make this soup more "soup-like" and less will mean your soup is more of the consistency of chili. You can make it exactly as written or you can get creative with the spices and flavors, as well. Just do yourself a favor and make yourself a pot. Now, let us know below if you eat soup for breakfast!