Lemon Dill Salmon & Asparagus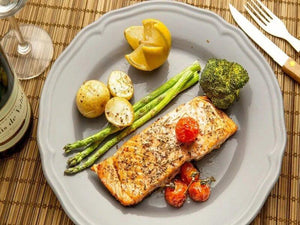 A quick & easy dish loaded with flavor, this one-pan Lemon Dill Salmon & Asparagus is a weekly go-to in our household! With only 5 minutes of prep time and 20 minutes of cook time your family will enjoy a Mediterranean Meal in no time. Rich in anti-inflammatory nutrients – omega 3's, monounsaturated fats, and Vitamins A, C, & E, this lemon dill salmon & asparagus dish makes it to the top of our list of go-to fish dinners!
Please note, this article includes

 

affiliate links. As an Amazon Associate, we earn from qualifying purchases.
PS The Pan Matters 
If you've ever tried roasting fish only to have the skin stick to the bottom of your pan, have no fear. You may just need a different type of roasting pan. The kind of baking sheet that you select can take your post-dinner dish cleaning duty from scrub, scrub, scrub, to an easy wipe and clean!  
We absolutely love this baking sheet. Made from heavy-weight aluminized steel, it provides superior heat conduction and even baking - perfect for one-sheet dinners and one-sheet pan meals!
Looking for more delicious and nutritious Mediterranean Diet Friendly Recipes?
If you love tasty, fresh, healthy recipes, we invite you to try out our Mediterranean Meal Plans.
Created by our Dietitian Nutritionist Jamie with you and your family in mind, our plans incorporate the Mediterranean Diet Principles throughout each week. You get a well-balanced diet, with way less stress. Each meal plan comes complete with an organized grocery list to save you time. 
Do you or a family member have specific dietary restrictions?
We offer a variety of options, including dairy-free and gluten-free.