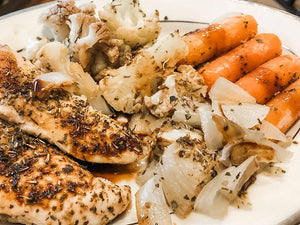 One pan Italian chicken sheet pan meal
Meals like this one pan chicken diner can be life saving on busy evenings.
You can make your entire dinner using only one pan...and most of the time is hands-off cooking! I love recipes like this: one pan for the whole meal, and almost all the time is hands-off. Throw some veggies and chicken on a pan, pop in the oven, and half an hour later, you are eating a delicious, healthy dinner. Then there's only one pan to wash, which is my favorite part.
Please note, this article includes affiliate links. As an Amazon Associate, we earn from qualifying purchases. 
This Meal Can Feed You Three Times or More
You can use this roasted chicken and veggies sheet pan meal as a shortcut to other meals. First, double or triple the recipe. (How much you make can depend on how many people you plan to feed and for how long. Just remember to follow food safety rules for leftovers to prevent bacteria.) 
Day one, you eat the One Pan Italian Chicken Meal as is. (So yummy!) 
Day two, reheat & chop the leftovers. Roll them up with some lettuce and sauce/ dressing (we like homemade vinaigrette) in a tortilla for a chicken and veggie wrap.
If you still have some left on Day three, you can add the chopped chicken and veggies to tomato sauce and pour it all over whole wheat pasta. 
Other ideas? It can all be stuffed in a pita with a bit of dressing, you can put it over rice, or use it as a not-very-common pizza topping. Ok that last one might be a bit of a stretch but you get the picture. So many option, so little cooking! 
One Pan Sheet Meals Are So Versatile
This recipe is super versatile. Feel free to try some new spices, use
fish
instead of chicken (cook time will be different), or swap out your favorite veggies for the ones we have here.
You almost can't go wrong!
How to Make this Sheet Pan Meal
First, pick a very large baking sheet or roasting pan. We recommend
this one
for size and sturdiness. If the pan is too small, food may become mushy rather than crispy.
Zest half the lemon (if you plan to use it and juice the whole lemon.
Layer the chicken breasts on one side of the baking sheet. Assemble veggies on the other side, making sure that nothing overlaps to ensure even cooking. This is where a large pan comes in handy!
Sprinkle herbs, zest of the lemon, salt, and pepper liberally over meat and veggies.
Cook in the preheated oven until chicken is cooked through (use a meat thermometer to ensure that the chicken is fully cooked).
During the last 5 minutes of baking time, remove the pan from oven (it will be hot so use care!) and squeeze lemon juice all over chicken and vegetables.
Put the dish back in the oven to finish cooking. This takes the dish to the next level. 
Serve plated over rice or alongside a beautiful green salad. Add a drizzle of balsamic vinegar reduction over the whole dish. Yum!  
Notes
Balsamic reduction is made simply by boiling vinegar until it reduces to a thicker sauce. It gets sweeter as it boils too, without any added sugar.
You can buy this kind of thing at many fancy olive oil and vinegar stores-- or easily make your own with our
super simple recipe
.
Ready for More?
If you love easy, delicious recipes just like this one, we invite you to try out our Mediterranean Meal Plans.
Our meal plans incorporating Mediterranean Diet Principles throughout each week so that you get a well-balanced diet, with way less stress. 
Each meal plans comes complete with an organized grocery list to save you time. The meal plans arrive directly to your email inbox: couldn't be easier!