Best Mild Taco Seasoning Recipe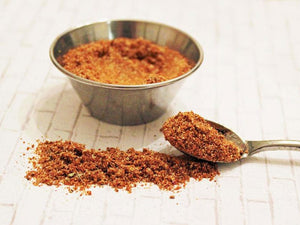 The Best healthy taco seasoning
This is the best mild Taco seasoning recipe and the only one you need for all your tacos and fajitas! Is better and cheaper than those little taco seasoning packets—and contains no additives at all. It stores well in an air-tight container. You can double (or triple) the recipe and always keep some on hand! Is this just for Taco Tuesday? No way! It's also yummy for adding some spice to soups, Mexican-inspired pizzas, and eggs! The possibility are virtually endless.
Why else this is taco seasoning awesome?
For any of our readers who like to maintain a low carb lifestyle, this recipe is a low carb taco seasoning mix. It is also fairly low salt. It's much lower than seasoning you can buy at the store. And since you are making it yourself, you can modify the ingredients as needed. You can leave out the salt altogether if you prefer!
Some like it hot
This is a mild taco seasoning recipe. Many families with kids use our recipes. So, we like to keep things pretty mild and then provide modifications to add in some spice. Personally, I love things hot. I generally add spice to the finished dish, in the form of extra cayenne pepper or hot sauce. If everyone eating your meal likes it spicy, feel free to add cayenne pepper or crushed red pepper right to the spice blend.
Made this spice blend?
Made this spice blend and ready to give it a whirl? Here are a few recipes to try it on: Taco Tuesday Chicken with Zing Let us know how you like it!