Build Your Own Meal: Stuffed Pitas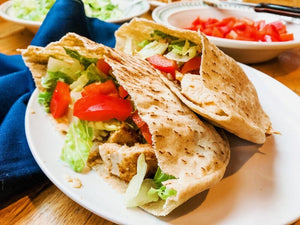 Build Your Own Meal: Pitas
Want to know the secret for the easiest meal that virtually guarantees that kids will eat it? A 'Build your own" meal! We do a lot of "build your own" meals in my household. The concept is that the chef provides all the ingredients, and the diners at the table design their own meal! It's a fun way for adults and kids to get a little creative at the table. Kids love having some control over what they eat, and I love that they eat without complaint! As an added benefit, it's a really easy meal to put together because it's mostly just ingredients. You don't really even have to make a meal or cook at all!
How does it work?
Here's how it works. Pick a main course. Today, it's stuffed pitas. This meal concept works well with other things too, including:
Build your Own Tacos (or taco salads)
Build your own Buddha Bowl (rice, veggies, sauces, etc)
Build your own Sandwich or Wrap
You get the idea. So many choices! Next, the chef sets out bowls of all different kinds of ingredients. Everyone at the table is able to build their own plate from the many bowls on the table. You can set a few rules or stipulations if you have younger kids (although I recommend you don't go overboard). In our house, each person must select at least one vegetable, either to eat on the side or to eat as part of their meal. Other than that, each member of the family can choose what goes into their creation.
Kids Love 'Build Your Own Meal' Nights!
For many kids, this feels like an opportunity to "play" with their food, which is normally discouraged. It's also a creative outlet. My daughter often sculpts her buddha bowl toppings into faces and her taco salad into a rainbow. My son's plate is often a giant mess of whatever he likes most, piled almost too high. This type of meal is great for kids to exercise some control over their plates. Younger kids may need some extra boundaries (like, you must pick at least 2 ingredients for your meal… otherwise they have a "meal" of just pita bread or at least one vegetable). Don't go overboard with rules, though, as part of the fun is in the individual designs. Older kids can really be given the reigns! I find that my kids always eat better and complain less when we have meals this way. After all, kids love having some control over their environment as much as adults do!
Some Additional Meal Ideas
For tacos, you might have: a protein of some sort like shrimp or chicken, beans, salsa, shredded lettuce, chopped tomatoes, sliced olives, hot sauce, maybe some shredded cheese, cauliflower rice, and whatever ingredients your family loves! For Buddha Bowls, we like to have a mix of: brown rice or quinoa as a base, at least two different sauces, a protein (either animal protein or beans/ legumes), lots of different kinds of chopped veggies (this works really well with leftovers), and anything extra like hemp hearts or sauerkraut.
For Sandwiches or Wraps, each person grabs either whole wheat bread or wraps and then puts into it: hummus, roasted red pepper spread, mustard, other spreads, sliced cheese or crumbled goat cheese, lettuce, and tons of veggies. Want more fun dinner ideas? Check out our blog post here and some recipes here! Does your family eat these kinds of dinners? Let us know in the comments!