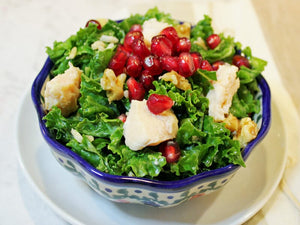 A Delightful, Complete Meal:
This delightful Kale Salad with Quinoa provides a great balance of healthy fats, whole grains, and protein. It also provides a variety of essential vitamins, minerals, antioxidants, and phytochemicals. If you are like us,
sneaking more green things
in your diet is a common goal. This salad is a delicious way to do it! Full of healthy fats, whole grains, and tons of vitamins from the fruits and veggies, this makes a perfect lunch, light dinner, or side dish in a smaller portion. Try bringing this to a potluck and have everyone singing your praises for a healthy, yummy meal! This salad is vegan, vegetarian, dairy-free, and gluten-free (check to make sure your quinoa has been labeled as such).
Other health benefits include:
Avocado is a great source of monounsaturated fat, rich in potassium.
Quinoa is a whole grain and a complete vegan protein providing all 7 essential amino acids.
Kale is packed with cancer-fighting nutrients: vitamins K, C, A, and antioxidants.
Pomegranates are rich in antioxidants, nutrients known to decrease the risk of cancer.
Walnuts are an excellent source of antioxidants and alpha linolenic acid (ALA), the plant based form of omega 3.
Making this Easy Kale Salad with Quinoa
This salad is super easy to make too! Seeding the pomegranate will be the most time-consuming part, so if you are time-crunched, we recommend buying the pomegranate pre-seeded. If you want to try seeding them yourself, check out our note on the best way to seed them yourself. Cooking the quinoa is the second part of this salad that requires any time commitment. We often use left-over grains for this salad. Quinoa is a complete protein, which is why we selected it for this dish. Brown rice is also a delicious choice (and shown in the picture). Mixing up the dressing is as easy as a quick whisk. If you don't use all the dressing, it will keep for a few days in your fridge! If the dressing separates, simply let it sit for a few minutes and then stir it together again. It's so delicious on a variety of salads. For more delicious salads and soups, don't
miss this
!