Roasted Fish with Veggies (one pan meal!)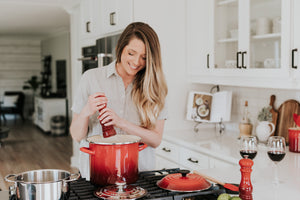 Super easy sheet pan meals
We love healthy and EASY around here. A one-pan meal, otherwise known as a sheet pan meal, fits this description entirely. These kinds of meals are made entirely on one baking sheet. They come together quickly, and the oven does all the heavy lifting for you. The blueprint for a standard sheet pan dinner is some type of protein (fish, chicken, tofu, etc), some type of veggie (peppers, zucchini, green beans, etc) and some type of sauce or spice blend. There are a probably million different delicious sheet pan meals out there!
This fish and veggie recipe
In this recipe, you are making a type of sauce out of olive oil, lemon juice, and spices directly on the pan. The flavor is pretty light, so it tends to appeal to all different pallets. includes picky eaters—like some kiddos! This could be a great introduction to fish. The tahini sauce that we pair with this fish is the opposite of lightly spiced. Tahini sauce is a very strong, nutty flavor. We recommend letting everyone add their own, since some diners (like those kids we talked about) may not be interested in such a bold flavor.
For more about what Tahini is, how long it lasts, and how to make Tahini sauce, please navigate to this post.) You could serve the fish with ketchup for kids! As always, let us know what you think! You can use @mediterranean_movement on Instagram and Facebook to show us what you are cooking. We would love to see what you're up to in the kitchen and feature your food on our pages! What else? If you love one pan meals, we recommend that you check out our Italian Chicken Dinner.
If you love fish recipes, we recommend that you browse over to our Crumb Topped Salmon or Lemon Dill Salmon & Asparagus. Don't forget to subscribe to our newsletter. You will get all our best stuff, sent right to your inbox. And we'd love for you to share us with a friend.