Strawberry Balsamic Bruschetta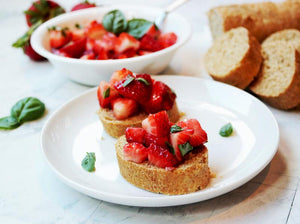 The perfect Summer appetizer
This Strawberry Balsamic Bruschetta is a spin on the traditional tomato bruschetta. It's perfect for Summertime when both strawberries and basil are at their peak ripeness. Did you grow some countertop basil and don't know what to do with it now? Try out this delicious recipe! You can make the strawberry topping ahead of time, which is perfect for parties and get-togethers.
Strawberry-Balsamic: a Match Made in Heaven
The strawberry and balsamic combination has been around for ages. The sweetness of the strawberries is a great compliment to the tart vinegar. Many recipes similar to this one use a balsamic reduction on top of the strawberries, rather than mixing it into to the recipe. (If you want to give that a try, here's how to make a balsamic reduction:
check it out
.) This is because straight vinegar can be pretty tart and sometimes overpower the berries. For this recipe, we make things easier and just as unexpectedly yummy, by using WHITE balsamic vinegar.
What is white balsamic vinegar?
White balsamic is lighter in color and much less potent than the standard dark balsamic. It's almost sweet, which is perfect for this recipe! Which researching, I found this interesting article on how balsamic vinegar is made. Essentially, regular balsamic is simmered for a long time and then aged in barrels. The white kind, on the other hand, is pressure-cooked to prevent the browning and only aged briefly. There are tons of great vinegar options on the market. This white balsamic from Laconiko is our personal favorite!