Vegan Mint Chocolate Chip and Greens Smoothie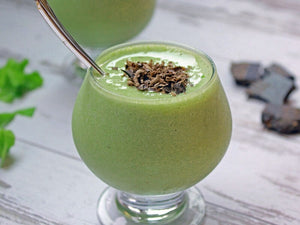 This vegan mint chocolate chip smoothie takes only a few minutes to put together, includes spinach or kale, and tastes amazingly close to a dairy-free milkshake. Pair it with some healthy protein, like a side of eggs or cottage cheese, for the perfect breakfast!
A Healthy, Vegan Mint Chocolate Chip Smoothie
A Smoothie can be a delicious, filling meal that takes only a few minutes to throw together! It's perfect for breakfast or a quick snack.
If you love smoothies, check out our post on how to make the perfect Smoothie complete with three more yummy, healthy smoothie recipes.
Or Is It.... Dessert?
We love to call this a Milkshake (dairy-free and sugar-free, of course). It really is that creamy and dreamy!
Use it as a dessert replacement.... we promise that it'll have visions of ice cream dancing around in your head. But you won't have the next-day sugar brain fog.
These healthy mint chocolate chip smoothies make a regular appearance in our house. This vegan mint chocolate chip smoothie tastes amazing.
It also has a hidden ingredient…. frozen greens! I promise that you can't even taste them. Give it a try and sneak some extra vitamins, nutrients, and fiber into your day.
How To Make This Healthy Smoothie
You want to make sure to use a high powered blender for this healthy mint chocolate chip smoothie. Let it blend for a while to make sure everything is very well blended.
When using greens, frozen cauliflower, or other veggies in your smoothies, you want to make sure that they blend up very well.
Some people might like to find a chunk of strawberry in their smoothie, but most people will not be delighted with a chunk of kale.
If you have a lower-power blender, first blend the greens and almond milk together and then add the other ingredients. (This is to ensure that the greens get completely blended. Trust us, you don't want a smoothie with chunks of frozen spinach in it! Even the most diet-hard greens lover might balk at that idea)
You will want your bananas to be really ripe. The riper they are, the sweeter your final treat will be. You can always add a tad bit of honey if its not quite tasty enough.
We also recommend using previously frozen bananas. Frozen bananas are an amazing creation that, when blended, have a consistency that is suspiciously close to frozen sorbet. I'm not sure what kind of shenanigan's are going on in the freezer, but I'm amazed every time.
When our bananas get over-ripe, we just break them apart and toss them into a bag in the freezer. Then we have them any time the mood for a frozen concoction strikes (which is often).
Is A Smoothie Part of a Mediterranean Diet?
Yes... and no. Do people in the Mediterranean traditionally eat smoothies? Not really.
But, when we talk about the Mediterranean Diet, we are not referring to the specific cuisine, spices, or exact foods eaten in the Mediterranean.
We are referring to the set of principles that govern healthy living, based on how people in the Mediterranean traditionally eat and live. (This is because people in that region are amazingly healthy. Curious about what a day in the life looks like? Check it out here.)
Smoothies, filled with nutritious fruits, veggies, healthy fats, and protein absolutely fit into this category.
Enjoy this treat and know that you are helping your body be at its absolute best! This recipe was adapted from ChocolateCoveredKatie.com
See more awesome breakfast recipes here.
Can You Make into a Mint Chocolate Chip Smoothie Bowl?
Why yes, that sounds amazing!
A smoothie bowl is simply a smoothie that has less liquid. This makes it comes out of the blender very thick, similar in consistency to frozen yogurt.
For this recipe, start with just 1/2 cup or 3/4 cup of liquid and see if your blender will make it blend. (Every blender is different!) If not, increase the amount just a little bit at a time until the blender will whirl.
Once it's blended, pour into a bowl.
Now, the best part: adding the toppings! For this smoothie, the toppings that we recommend include:
Cacao nibs or dark chocolate chips
Drizzle of nut butter
Chia seeds
Sliced bananas or raspberries
You know what? That sounds amazing. Excuse us while we go make this Vegan Mint Chocolate Chip Smoothie into the most delicious, healthy smoothie bowl!
MEDITERRANEAN DIET MEAL PLANS TO THE RESCUE
Love this recipe? You will adore our meal plans, created by a nutrition expert!
Perhaps you lead a busy life, are struggling to lose or maintain a comfortable weight, or are managing a health condition in your family.
Our Meal Plan Membership is here to plan your meals so you don't have to. Stop worrying about dinner, and start enjoying your healthy meal plan.
Every month you'll receive Mediterranean Diet recipes and shopping lists, plus tips for substitutions. Our recipes are fast, easy, delicious, and healthy, with no crazy ingredients. Our Meal Plans use leftovers to save you even more time! 
Let's Nourish ourselves and our families together!