Favorite Family-Friendly Dinner Recipes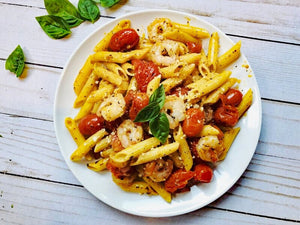 All healthy recipes are ready in under 30 mins, have been tested & loved by families, & will make your dinners easier!
(Keeping reading to download your FREE Recipe Book!)

(Shown is Shrimp & Penne with Bursted Cherry Tomato Sauce; it's in the recipe book!)
Some of our Favorite Dinners
Listen, we get it. We are parents, spouses, and employees with a million commitments, too. Getting dinner on the table can be the last thing you want to do at the end of a long day. In fact, our communities (you!) told us that easy, yummy dinners were the one thing they needed most for back-to-school. I have great news! All these recipes are ready in under 30 minutes, and they have all been tested and loved by families. While this doesn't guarantee that your family will love every one, we have found that meals go over well when they use familiar ingredients or are similar to meals that your kids have eaten before. That's why we include pizza, pasta, and quesadillas with updated, healthy ingredients! Adults love these meals too. (We promise that you won't feel like you are eating "kid food". We include lots of tips for substitutions and modifications, too.)
Great for Kids
If you have kids, you will love this recipe book. We know that kids tend to eat better if they have the ability to choose some of what's on their plate. You will find a "Get the kids involved" box on each recipe with a tip for helping your kids feel more empowered over their dinner! Ending dinnertime struggles? That is something we can get behind! We put this recipe book together for everyone who could use a little help getting a delicious meal on the table. We would love to hear what you think of these meals! Please let us know on social media or below. If you loved these recipes, we invite you to check out our Meal Plans, too.
Meal Plans
Start this school year right with the ideal, stress-free way to put the best nutrition on your table! Our 21-day plans include three meals and optional snacks, as well as a complete grocery list and substitutions for picky eaters. They include the same kinds of family-friendly recipes included in this recipe book! Created by a Registered Dietitian, our meal plans have been optimized to follow the principles of the Mediterranean Diet, leading to balanced nutrition and great health. In addition to our traditional Mediterranean Diet, we offer gluten-free, dairy-free, and vegetarian. Clients who use meal plans report savings 8 hours and $200 per month! 
Your Recipe Book Here

(Yes, this oh-so-delicious crepe is a breakfast-for-dinner dinner option! It has secretly healthy ingredients, like almond flour and almond butter, and it pairs wonderfully with scrambled eggs or a side salad.)