From M&M's to Three Musketeers: A Guide to Healthier Halloween Candy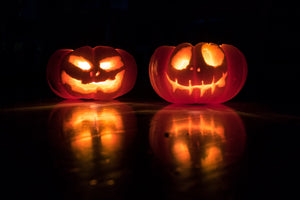 Note: This blog originally appeared on the Chicago Academy of Nutrition and Dietetics Blog. As it is no longer available, we have reproduced it here. At the time of publishing, Jamie was a Junior Dietetic Intern and Masters Candidate at Rush University Medical Center.  
From M&M's to Three Musketeers: A Guide to Healthier Halloween Candy
As children become eager to mask themselves as their #1 superhero or dress up as the fairest princess of them all, grocery store aisles start to pile up with tempting treats while Halloween creeps upon us. Before you know it, these mouthwatering sweets will find themselves falling out of your child's plastic pumpkins and into your home, eventually getting stuffed in your office desk drawer or hidden among your kitchen cabinets.
So which scrumptious candy options are better for you to hand out to all the disguised trick-or-treaters…or better yet, to sneak out of your child's mountain- high pile to satisfy a mid-day sweet tooth?
The following tips about "healthy" candy choices will help you indulge without the added calories.
Tip #1: Stick to the fun-size bars. Most households have a one-candy bar limit when passing out candy to trick-or- treaters, and the size of that bar can make all the difference. One fun-size Three Musketeers contains 63 calories, 2 grams of fat, and 10 grams of sugar, compared to 240 calories, 7 grams of fat, and 36 grams of sugar in a regular size bar. The fun- size bar also adds built-in portion control. You may think twice about whether you really want another one if you have to physically open a second candy. 
Tip #2: Pick peanut options. While candies with peanuts in them may have a few extra calories, with the added protein from the nut, your body will be satisfied longer, which keeps you from craving more later on. Fun-size peanut M&M's contain 90 calories, 5 grams of fat, and 9 grams of sugar while fun-size regular M&M's contain 103 calories, 4.44 grams of fat, and 10.7 grams of sugar.
Tip #3: Choose hard candies. Although Jolly Ranchers (70 calories, 0 grams of fat, 11 grams of sugar in 3), Blow Pops (60 calories, 0 grams of fat, and 13 grams of sugar), and gum (25 calories, 0 grams of fat, and 5 grams of sugar in Bubble Yum) may be high in calories and sugar, these sweet treats take a lot longer to finish so you're less likely to eat more, with an added bonus of keeping your mouth busy and away from munching on higher calorie candies. 
Tip #4: Go for non-candy options. Consider choosing non-candy options. fun-size boxes of raisins, pretzels, or other less-sugary snacks can be a welcomed addition to any trick-or-treater's bag. You could also go with stickers, pencils, spider rings, or any manner of tiny festive goody. Parents will likely thank you for the break, and you won't be tempted with all the left-overs. 
Let us know in the comments below! Will you use any of the tips above to help manage your sugar intake this Halloween? 
Are you looking to continue to enjoy sweets while living a healthy lifestyle? 
The Mediterranean Diet can help prevent diabetes, reduce heart disease risk, promote weight loss, and help you live a longer, healthier life. It's backed by decades of research.
But the truth is, there's a lot of misinformation out there! It can be really tough to get started.
If you're struggling to begin, our Mediterranean Diet Meal Plans are the perfect first step! Our meal plans make meals:
Choose whether you want to try just one Meal Plan or you want to put your nutrition on auto-pilot with a Meal Plan Subscription (and save tons of money in the process). Every Meal Plan was created by a certified dietitian nutritionist using the best Mediterranean Diet principles. Available via digital download. 
Grab your Meal Plan today!