Delicious Meals from Pantry Staples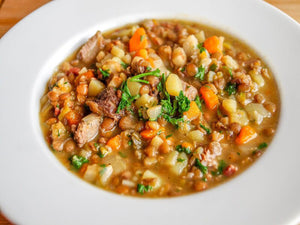 A collection of some of the best recipes around that you can make primarily from pantry and freezer staples. Jazz up your cooking tonight!
This post was originally published back in March when many things were still shut down. However, many of you are asking for meals made from pantry staples that you are likely to have on hand, so we have re-published it. Plus, it's time to make room for all those holiday foods! Happy cooking. :)
Lots of delicious, innovative meals you can make with ingredients from your pantry and freezer!
What can I cook with the food I have on hand?
We are living in interesting times. In addition to other stresses caused by COVID-19 and quarantine, a new reality for many people is the need to cook breakfast, lunch, and dinner every day, perhaps for the first time in their lives! Gone are the days of popping out of the office for a quick salad. Families have stocked their pantries and fridges with the essentials, and now there's some collective head-scratching on how many boxes of pasta with jarred red sauce we can eat before boredom overtakes us.
Recipe Inspiration!
You will be happy to know that your freezer and pantry staples can provide far more exciting dinners than just plain pasta: things that are nutritious and interesting! The healthy recipes below should provide you with a great starting point for bringing some variety into your dining. If you do not have every ingredient in a particular recipe, feel free to get creative with what you do have. It's fun to see how simple food swaps can change an entire dish! Fresh fruits and veggies can be swapped for frozen or canned. If you are missing spices or herbs, omit them or swap a different spice for a new flavor. The categories of recipes below include the following. Feel free to scroll to any section that sounds interesting or to breeze through them all. We'd love your thoughts on any recipes that you try– or on any other ways you have loved feeding your families during this time:
Soups and Chili
Meals with Rice and other Grains
Pasta
Breakfast for Dinner
Canned fish or chicken
More with Beans and Lentils
Soups and Chilis
What I find to be true self-care is cooking a giant vat of veggie soup at the beginning of the week and eating it all week long. I love knowing that I have something warm and healthy to dig into any time I need and that it's something easy to feed my family as well. We might be eating three meals together each day, but that doesn't mean I want to cook – or clean up after cooking—three full meals! Most soups call for lots of fresh vegetables. Feel free to substitute frozen, they soften up in the soup anyway. We recommend steaming the frozen veggies first so that the soup doesn't get watered down by the frozen vegetables. Also, canned green beans, corn, asparagus, and other canned veggies work great if that's what you have. We recommend rinsing any canned vegetables well to remove excess salt.
Some of our favorite recipes are below:
(To make this pantry-friendly, swap fresh veggies for frozen.)
(To make this pantry-friendly: use frozen greens instead of the fresh spinach, onion powder instead of fresh, and frozen carrots & peas.)
(To make this pantry-friendly: if you don't have fresh onions, you can sub in onion powder.)
(To make this pantry-friendly: omit the fresh veggies or add in frozen. Garlic can be jarred or powdered garlic.)
(To make this pantry staple friendly: swap the fresh vegetables for frozen or canned, of any variety! This recipe is super versatile. You can omit anything fresh that you don't have. Otherwise, it's all pantry staples.)
Meals with Rice and other Grains
There are so many ways to use rice to make a delicious dinner! Any kind of sauce, preferably with veggies or beans from your pantry or freezer, can be layered over rice for a filling, delicious meal. Many of these recipes call for scallions—feel free to omit or use onion powder. Lots of international meals can be great options with rice, particularly Thai and Indian dishes. And of course, any grain will work well in place of rice. Quinoa, amaranth, bulgur, wild rice, there are so many options to choose from! (For more on grains, check out
our blog)
(Omit the scallions or use onion powder instead. We recommend omitting the soy sauce and adding a bit of salt if needed.)
(Use frozen peppers or omit.)
(We often make this vegetarian by omitting the chicken entirely, and you can use frozen veggies instead of fresh. Omit scallions.)
Pasta From Pantry Staples
Pasta is amazingly versatile! If you have a choice, we always recommend bean, lentil, or whole wheat pasta for added nutrition, but any kind of pasta will work well for these recipes. Try to add in some frozen veggies if you have them. Below are a few of our favorite recipes:
(Use the recipe at the bottom of our list to make your own hummus with pantry staples. Then use this awesome recipe, based completely on pantry staples!)
(Omit lemon zest if you don't have a fresh lemon… it will still be great!)
(This awesome salad doesn't even use mayonnaise. You can add or subtract ingredients as you have them. You can sub honey for the agave nectar if you don't have any.)
Breakfast for Dinner
At my house, having breakfast for breakfast is often met with ambivalence. But breakfast for dinner is a reason for celebration! We normally have fruit, eggs, and something yummy like pancakes or oatmeal. Now, we may not have eggs, but we can all still enjoy a meal of canned or frozen fruit and all the pancakes. The recipes we selected are higher in protein and/or fiber to make filling, healthy meals for you and your family. Side note: we keep shelf-stable almond milk at my house so it's a pantry staple for us. You can get virtually any type of milk (dairy, cashew, soy, etc) shelf-stable these days, and I recommend having some on hand. There are about one million pancakes recipes; the ones below are ones that my family personally loves.
(These are high in protein and fiber but do requires eggs.)
(If you don't have eggs, give this recipe a try instead. Feel free to use any kind of milk that you have on hand; we keep shelf-stable almond milk at my house.)
(If you don't like pumpkin! This does require milk of some sort.)
(There are SO many different varieties of overnight oats, and you can top them with whatever you like: we love frozen berries, chia seeds, and nuts).
(We often have smoothies as snacks, or we serve them alongside an otherwise less healthy meal. We stuff as many frozen veggies as we can to up the goodness factor. You can find our blueprint for crafting a delicious and nutritionally balanced smoothie.)
Canned fish and chicken
Lots of people either love canned meat or hate it, but you cannot deny its convenience! Spam might have been the canned meat of our childhoods (or was that just my childhood?!), but now you can get natural chicken without any added sugar or preservatives right in a can. Canned chicken, tuna, and salmon can work well in casseroles, sauces, and dips that otherwise call for fresh meat and are the ultimate pantry staple.
(These are like crab cakes, but made with canned salmon instead. I've made them with half salmon and half canned tuna, and they are still great. We even eat them for breakfast! We love to add onion powder to this recipe.)
(We recommend only using mayonnaise made with avocado oil for optimal health. Swap celery and onion for any veggies that you have, omit veggies entirely, or use chopped nuts for a crunch).
(Use canned chicken instead of fresh—just stir it right in alongside direction #3. Instead of onions, I use a can of chickpeas. This dip is so good and spicy!)
More with Beans and Lentils
Beans and lentils make a great meal on their own. Cook up a big batch (or use canned beans, rinsed well) and serve alongside veggies, grains, or fruit. Layer them into a tortilla with salsa or make a batch of bean salad. There are so many ways to love legumes.
(There are so many hummus recipes out there. We love this one! Once you have hummus, you can serve it with a plate of crackers or veggies, or you can serve it over pasta, or you can make a hummus casserole—so many options.)
(These are yummy and come together easily, straight from your pantry. Consider making a double batch and then freezing some for later.)
(This is as "pantry only" as recipes come, with lots of room to experiment with different spices.) Now it's your turn! Get cooking and let us know what you make using your freezer and pantry staples, using #medimove on Instagram or Pinterest.
Are you looking to continue to enjoy sweets while living a healthy lifestyle? 
The Mediterranean Diet can help prevent diabetes, reduce heart disease risk, promote weight loss, and help you live a longer, healthier life. It's backed by decades of research.
But the truth is, there's a lot of misinformation out there! It can be really tough to get started.
If you're struggling to begin, our Starter Guide & Recipe Book is the perfect first step! It gives you:
Important principles to start using now
A collection of easy, delicious recipes to make at home
Actionable steps from a nutrition expert
Best of all? It's completely FREE -- our gift to you! You can snag your copy today!