Meet the Founders of The Mediterranean Movement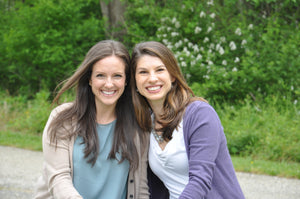 Hi, I'm Ashley
Hi, I'm Ashley! I am a Mom of three small people, a Mediterranean Diet enthusiast, and a business expert. Originally from Atlanta, I now fondly call Virginia my home.
My Story with Nutrition
I lost my mom to cancer when I was a kid. That terrible experience crystallized in me an understanding of my own mortality. It fueled my desire to live a long life through fitness and nutrition.
After I had my first child, the drive to do all I could to protect myself (and my beautiful child) from health calamities really awakened.
There's more to the story, too. As a first-time Mom, I expected to feel exhausted with a new baby. As she grew and started sleeping through the night, I was dismayed to find that I still felt tired in a way that I hadn't before parenthood.
Watching her have a sugar crash after eating birthday cupcakes, it hit me that sugar might be having the same effect on me. I was eating what I thought was a healthy diet: no McDonald's but lots of granola bars.
After taking a closer look, I realized that all the convenience foods were providing me with way too much hidden sugar and way too many chemicals. This was when my journey to find a truly nutritious way to eat began in earnest.
Why I love the Mediterranean Diet
I started educating myself on nutrition. I tested out many of the popular diet methodologies before falling in love with the Mediterranean Diet. It was amazing the impact that great nutrition had on my mood and overall attitude: I felt energized and clear headed again.
The flexibility of the Medi Diet made it easy for me to find things for the whole family to eat. I was not keen on making multiple meals, as I found to be necessary with other diets! I wanted a set of sustainable principles that would guide my cooking throughout my family's lifetime.
The Mediterranean Diet was that. It is a Lifestyle, after all. Importantly, I loved knowing that living according to the Mediterranean Lifestyle principles is helping my family find health and wellness every day.
Hundreds of studies back the Medi Diet as health optimizing; I have not seen this amount of research with other diets.
Experts point to this Lifestyle as likely to reduce your risk of heart disease, cancer, cognitive decline, stroke, depression, and a number of other ailments.
With all the vegetables and whole grains, it also feels intuitively healthy to eat this way. As an added benefit, I lost my pregnancy weight and kept it off, even after the births of my second and third children. I feel great in my body!
Things I love
I can't wait to share everything I've learned with you and to hear about your journey too! A little bit more about me: I love breakfast foods any time of day, long days at the beach, and spontaneous adventures.
I love to be active, which is equal parts doing triathlons and chasing my family around the playground. I have three kids, who are 7, 5, and almost 3 years old.
Being a Mama is rewarding, fulfilling, challenging, and crazy-making, all at the same time! I am married to the man I fell in love with in college, and I love building a life with him. I have been part of corporate America in various roles with technology companies for many years.
I consider the Mediterranean Movement my greatest pursuit and my passion project. It has been so rewarding to create and grow it! I hope it can be a source of inspiration and information for you and your family. (Here's the story of how the company was born.) Here's to happy, healthy eating!
Hi, I'm Jamie
Hi, I'm Jamie! I am a whole foods Registered Dietitian, enthusiastic runner, yogi, and lover of all things dark chocolate (with a touch of sea salt) and red wine. I'm a Michigander at heart, now Charm City living in Baltimore, MD with my husband and daughter.
My Story with Nutrition
Nutrition has been part of my life since taking over grocery shopping and dinner preparation for my family back in middle school after losing my mom to her battle with cancer just before I started the 6th grade.
My cooking skills have since transitioned from boxed recipes of hamburger helper to wholesome homemade Mediterranean style dishes.
After losing my mom to her battle with cancer as a 10-year-old, food was my coping mechanism and candy, baked potatoes, and rice with chicken gravy became staples in my diet.
I quit soccer, the only sport I was playing at the time as it was a shared activity between my mom and I. When I reached high school I started to pursue a career in which I could make a difference in people's lives before, during, and after a cancer diagnosis. After taking a nutrition course and learning that of all cancer deaths are related to ⅓ excess weight, physical inactivity, and poor diet quality, I found my calling.
Our white breads were switched to whole wheat, our whole milk was switched to 2%, and I started to explore cooking with a variety of whole grains, fruits and vegetables for our family.
I claimed my major as dietetics the moment I was accepted to Michigan State University and during my first meeting with an advisor I told her I would to be a pediatric oncology dietitian one day.
Two things that haven't changed since my middle school dinner prep are sharing meals around the table with family and keeping an active lifestyle.
Why I love the Mediterranean Diet
My food philosophy is that every food fits. I have never been a fan of restrictive diets that eliminate an entire food group or even a single food as each food brings its own unique nutrients to nourish the body and mind. It is all about creating balance and moderation.
During my graduate studies, I completed my master's thesis on the inflammatory properties of nutrients and foods. I looked at the American Cancer Society's Guidelines on Nutrition and Physical Activity for Cancer Prevention, both of which emphasize the importance of whole grains, fruits, vegetables, and plant-based or lean animal protein sources. All of these align with the principles of the Mediterranean Diet.
Better yet, the Mediterranean Lifestyle also emphasizes the importance of engaging in regular physical activity and enjoying meals with friends and family. As we studied the Seven Countries Study, I learned about other health benefits associated with the Mediterranean Diet, including decreased risk of heart disease, type 2 diabetes, and neurodegeneration.
I was intrigued and began incorporating the principles into my own life. I was training for my first marathon when I started including a Mediterranean Diet-style of eating. I felt energized, strong, and had the mental clarity to get through my classes without having a midday sugar crash or feeling depleted of nutrients.
I am often asked by friends and family "so what's the best diet to follow?" and I respond with that there is no single "diet".
Rather, I recommend following a Mediterranean Inspired lifestyle by incorporating a variety of whole grains, fruits, vegetables, beans, nuts, legumes; engaging in regular physical activity; and enjoying meals with family and friends.
I am now so excited to share my passion for living this lifestyle with all of you!
Things I Love
Faith, family, and friends always come first. When I'm not exploring the great outdoors or camping with my husband, you will find me visiting friends and family from coast to coast!
Working with kids has always been a joy of mine and my husband and recently welcomed a little one to our family in 2021.
S'mores and red wine are my weakness, for which I have trouble eating in moderation at times, but I also crave a crisp refreshing salad with a glass of bubbly rose on a warm summer day.
Baking has always been my "thing" whereas cooking (more like grilling) is my husband's. Now that we have settled into our new home, I have been playing around with some new recipes that I cannot wait to share with you!
I look forward to sharing tips, tricks, and recipes to help you move towards Mediterranean living!
Looking for the proven path to the Mediterranean Diet?
The Mediterranean Diet can help prevent diabetes, reduce heart disease risk, promote weight loss, and help you live a longer, healthier life. It's backed by decades of research.
But the truth is, there's a lot of misinformation out there! It can be really tough to get started.
If you're struggling to begin, our Starter Guide & Recipe Book is the perfect first step! It gives you:
Important principles to start using now
A collection of easy, delicious recipes to make at home
Actionable steps from a nutrition expert
Best of all? It's completely FREE -- our gift to you! You can snag your copy today!