Starting the Mediterranean Diet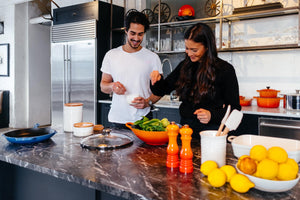 Ready to move towards living a Mediterranean Lifestyle?
Read on to learn how to transition to a Mediterranean Lifestyle, no matter what your current day to day lifestyle looks like!
Overhauling your diet all at once can be a beneficial way for some to jump right into Mediterranean Living. It might be challenging for a few days, but once the new habits stick, your whole way of eating has changed– for the better.
Your health gets an automatic boost! If you are ready to jump into a Mediterranean Lifestyle, check out our done-for-you meal plans that include grocery lists for foolproof nutrition!
Clients tell us that using our meal plans saves them hours of time and stress each week. For others of us, easing into the lifestyle with smaller changes week by week can be a great way to transition into a new lifestyle.
For people who are looking to move towards living a healthier life, without a complete overhaul, we recommend making simple food swaps such as the ones recommended below. This is also a nice way to ease your family or partner into a new way of eating without causing panic.
Start to Transition Bit by Bit
Think about meals that you and your family currently enjoy on a frequent basis. Then, make substitutions for the less healthy items.
Take a look at our list below and pick a few to try. It may take some thought at first, but after a while, these types of switches will become automatic.
As your new routines become a habit, you can add in some additional swaps… and so on! By making some of these easy swaps, you will be making your diet healthier, and by extension, the life of you and your families!
Tips to get started:
Here are a few simple tips to get you started:
Aim to fill your plate half full with fruits and vegetables

Add spinach to your morning eggs, grab a handful of nuts and berries for a snack on the go, or add a simple side salad to tonight's dinner
Use sautéed or grilled veggies as a side with fish and quinoa
Use veggies such as kale, spinach, beets, carrots, or cabbage in your morning or snack smoothie ("riced" cauliflower is a favorite!)
Enjoy them raw, cooked, steamed – anyway you like them!
Make berries with whipped cream, baked peaches with cinnamon, or frozen chocolate covered bananas your delicious desserts of choice!
Incorporate more heart healthy fats into your day

Swap out butter & margarine for extra virgin olive oil
Use Olive oil and vinegar with lemon as a great salad dressing!
Roast your vegetables in olive oil
Have almonds and walnuts on hand for an easy on the go snack
Eat nut butter with your apple slices - yum!
Choose lean proteins

Aim to eat fish at least two times per week - you can make fish tacos, salmon burgers, tuna salad, oven-baked fish dinners, the list is endless!
Use beans and legumes as your protein base for lunches - prepare a Mediterranean bean salad, add chickpeas to your salad, or enjoy a cup of three-bean soup
Reduce your intake of red meat by cutting the percentage in chili and burgers—try a 50/50 split with legumes or beans
Think about meat as more of a side dish, with beans, legumes, veggies, and whole grains playing a more starring role. Bonus: you will likely save money by eating less meat!
Rethink your drink

Aim for 6 – 8 glasses of water each day!
Add fresh herbs and fruit to make a fruit-infused water
Use a soda stream to make bubbly water
Start to scale back on your intake of sugary beverages. You can try diluting juice with water, a little more each day, to let your taste buds adjust
Reduce your soda intake to just once per day, then once per week, and continue to space it out
Swap your beer or cocktail for a glass of red wine
Get Moving!

Aim for 30 minutes of physical activity per day. This doesn't have to be all at once and it doesn't have to be in a gym! Try a 15-minute walk in the morning and again after dinner. Bonus: walking after you eat helps to stabilize your blood sugar too!
Find something you like to do, whether it be walking, gardening, doing the chores, riding a bike - anything that gets you up to move! All the better if you have someone to share it with - take a walk or ride a bike with a loved one, or invite a friend to try out a new fitness class with you
Spice up your life with fresh herbs and spices

Skip the salt – instead use marinades of olive oil, lemon, rosemary, and thyme
Grow fresh herbs on your windowsill so they're ready to use when you need them. Clip them, chop them and throw them in soups, on salads, in marinades, roasted chicken or fish - the list is endless!
Gather around the table with family and friends

Make it a priority to have dinner with your family at least one additional night per week. If you already eat together on the weekends, for example, spice up the work week with a taco Tuesday or a make-your-own pizza party with the whole family
Host a dinner party – Mediterranean Themed!
Looking for the proven path to the Mediterranean Diet?
The Mediterranean Diet can help prevent diabetes, reduce heart disease risk, promote weight loss, and help you live a longer, healthier life. It's backed by decades of research.
But the truth is, there's a lot of misinformation out there! It can be really tough to get started.
If you're struggling to begin, our Starter Guide & Recipe Book is the perfect first step! It gives you:
Important principles to start using now
A collection of easy, delicious recipes to make at home
Actionable steps from a nutrition expert
Best of all? It's completely FREE -- our gift to you! You can snag your copy today!