Testimonials for Mediterranean Movement Nutrition Programs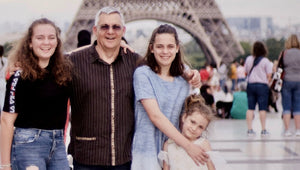 Read what some of our past nutrition program participants have said!
Brandi learned how to naturally curb her sugar intake and that all foods fit:
"I joined the Mediterranean Movement (Nutrition Program) because one, I want to be knowledgeable about what I should be putting in my body, and two, because I crave sugar like crazy!
I have learned to not be afraid of foods that contain fat or carbohydrates. I have also learned that your body needs nutrients from various types of foods such as nuts, seeds and whole grains. I have definitely increased my intake of healthy fats and whole grain options and I have so much more energy. The greatest success I have made is that my sugar intake is at the lowest it's ever been.
This program is 100% worth doing! Jamie and Ashley are both informative and motivational. Hold yourself accountable and join the Mediterranean movement!" -Brandi B (program participant)
Angie found that she could accomplish her health goals without making drastic changes:
"I attended the program and found it incredibly helpful being apart of a group. The program helped keep me accountable. The result of the 4-week course was insight into my current eating habits and where I was lacking nutrition. I never cook fish even though I like it and realized this is a nutritious food I was missing from my diet.
Both Ashley and Jamie were incredibly knowledgeable and helpful when it came to ideas for recipes for kids and easy on the go snack for busy women!
I would recommend the program to anyone looking to get a jump start on a healthy diet without having to make drastic changes. I never felt like my goals were unattainable because they were set realistically. -Angie (program participant)
Another participant loved having a community behind her:
"Met my goal and it was easier than I thought it was going to be. Fueling my body with all the good stuff, and I just didn't need the added sugar. Having a goal and a community behind me helped!" -program participant
Another participant discovered the value of great nutrition:
"It has been amazing! I have learned so much and have incorporated certain nutrition into my diet I have never thought about before. Thank you for your guidance and knowledge." -program participant
Interested in how you can start 2021 feeling better than you have all year? We invite you to check out our "Reclaim Your Energy" Program! This is a first-class 4-week nutrition program that will help participants regain their energy through eating whole, real foods. It was created by our Registered Dietitian using dietary modifications based on the principles of the Mediterranean Diet, hailed by experts as the Best Overall Diet for 3 years in a row!
More about the Program:
Each week, our 4-Week Program will gently introduce modified dietary and lifestyle guidelines a little at a time to gradually "wean" participants off their old habits (no food hang-overs!). At the same time, we will help them introduce new habits, based on nutrition science, that will help them naturally find their energy and feel amazing overall. The last week of the program is dedicated to helping people integrate what they've learned into their unique life so that the most impactful changes are sustainable for them for the long-term!
Interested in working with us? 
Learn how our nutrition coaches can support you today!
Are you looking to continue to enjoy sweets while living a healthy lifestyle? 
The Mediterranean Diet can help prevent diabetes, reduce heart disease risk, promote weight loss, and help you live a longer, healthier life. It's backed by decades of research.
But the truth is, there's a lot of misinformation out there! It can be really tough to get started.
If you're struggling to begin, our Starter Guide & Recipe Book is the perfect first step! It gives you:
Important principles to start using now
A collection of easy, delicious recipes to make at home
Actionable steps from a nutrition expert
Best of all? It's completely FREE -- our gift to you! You can snag your copy today!