Download your Mediterranean Diet Guide with Recipes!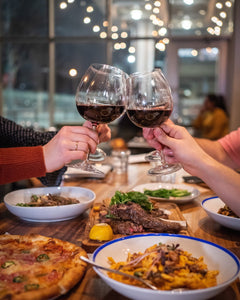 Hello there!
Ashley here from the Mediterranean Movement. As the recipe developer behind the scenes, it is my goal to provide you with insanely delicious food that supports, rather than distracts from, your health goals. Together with Jamie, our Registered Dietitian and nutrition expert, our goal is to support you in living a healthier, more delicious lifestyle. We do this through whole foods and the principles of the Mediterranean Diet.
Many of our clients know that they want to improve their health, but aren't sure how to get started.
They want to enjoy food that will help them avoid or reverse chronic diseases like diabetes and heart disease. They want to avoid the health conditions that their parents struggled with. They want energy to let them soar through their day. But it's overwhelming to change a style of eating that has been with you for years and years. It's hard to know where to begin. There's just so much information (and misinformation) out there!
With only the most vital information about the Mediterranean Diet, you can get up to speed quickly. Each recipe provides a combination of fiber, protein, and fat, as well as many important vitamins and nutrients, to help you feel fueled throughout the day. Additionally, research shows that eating according to Mediterranean Diet principles can help reduce your risk of diseases like cancer, heart disease, and Alzheimer's. Each recipe in this book takes under 35 minutes to make (some much less). These recipes use familiar ingredients that you can get at your grocery store and that you will likely recognize. And hey, when you make these meals, be sure to snap a pic and tag us on Instagram or Facebook (#medimove)! We love seeing what you are up to in the kitchen.
About The Recipes In This Free Guide:
Your health is one of your most important attributes. Eating the right foods can help you decrease your risk for diseases like diabetes, cancer, and heart disease. It can also help you feel energized and amazing each day! But who wants to live 100 years eating nothing but salad? Luckily, the Mediterranean Diet is a flexible and delicious way to eat! Check out these 6 easy, scrumptious recipes to see what we mean.
Meals like: Penne & Shrimp with Bursted Cherry Tomato Sauce Chickpea Waldorf Salad Grilled Mediterranean Chicken Kabobs will have you feeling satisfied, happy, and healthy.
​Be sure to click the link below to download your free recipe book and to continue receiving future emails from us with all things yummy and nutritious - no spamming, ever!

We have lots of resources available on our website! Check out our Mediterranean Diet recipes here and tips for making weeknight meals easier! Happy eating, Ashley & Jamie The Mediterranean Movement