5-minute Pizza Sauce Recipe (Family Favorite 2021)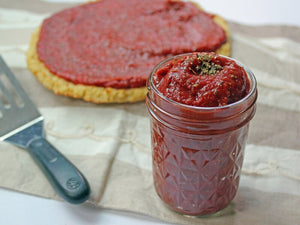 This 5-minute pizza sauce recipe is so good and so easy, you will wonder why you have been buying jars of pizza sauce all these years!
Best Recipe for Pizza Sauce
Pizza sauce is deceptively easy to make and so amazingly delicious. Of course, it's perfect for a homemade pizza. Or have a super fun family pizza night by buying or making your own healthy pizza crust (whole wheat or cauliflower are both winners), whipping up this sauce, and going wild with the toppings. My kids love to style the chopped veggies and toppings into smiley faces.
But this 5-minute pizza sauce is not just for pizza! Looking for some additional uses for this amazing, easy pizza sauce? Try it on Portobello mushroom pizzas. We love to slather cooked chicken with pizza sauce and a sprinkle of feta or mozzarella for "pizza chicken". My husband enjoys a pizza sandwich on whole wheat bread with turkey meatballs or chicken plus pizza sauce and cheese. You could toss this with warm whole wheat or chickpea pasta to make "pizza pasta". Are you seeing all the possibilities?
Ingredients for Pizza Sauce
Such simple ingredients for such a yummy sauce! A couple of cans, crushed tomatoes and tomato paste, plus a bunch of spices. That's it. We tried to keep this sauce as easy as possible. It's likely that you even have those ingredients in your pantry right now. So what you are waiting for? Your lunch is calling! Many other recipes call for cooking the sauce over the stove. While I'm sure lots of pizza places do that, this wouldn't take 5 minutes if the stove was involved. This is your new weeknight bestie for when you come home exhausted. Open a few cans, dump them together, slater on pita bread and call it dinner.
Most kids love pizza
and will be absolutely thrilled. Win-win.
Does This Taste Exactly Like Store Bought?
Let us be completely honest. No, this homemade pizza sauce from scratch does not taste exactly like store bought. Canned pizza sauce is smooth. This 5-minute pizza sauce recipe makes a sauce that is chunkier and thicker than pizza sauce out of a can or jar. But think about your favorite gourmet pizza restaurant. Don't they have chunky sauce, full of amazing tomato flavor? That's what we are going for here. The thickness also makes it perfect for pita pizzas or Portobello pizzas. Thinner pizza sauce tends to slide right off of those crusts. If you prefer your sauce thinner, you can add a bit of water and pop the whole thing in the blender.
This pizza sauce tastes a bit different than sauce out of a jar in another way too. It's not as sweet. Most cans of pizza sauce have added sugar. This has none. With the addition of the spices, you will find that this sauce has more herb flavor, too. If you (or your kids) prefer the sauce a bit sweeter, you know what to do. Add a bit of honey or other sweetener until the homemade sauce is exactly how you like it. The great thing about making your own food is that you can control the ingredients. Maybe you start by adding some honey today and when you make pizza next week, you add half as much sugar as your taste buds adapt.
Or perhaps you just decide that you are fine with a bit of sweetness in your pizza. Either way, it's up to you! And with no preservatives or additives, this sauce is healthier for you too. If you love super easy, healthy, flavorful food, check out our Mediterranean Diet Meal Plans! They are full of amazing recipes and complete with grocery lists to save you time, money, and energy. The dinner-only meal plans will make your week way less stressful. For a limited time, you can grab one week for free.