Cantaloupe Breakfast Bowl with Crunch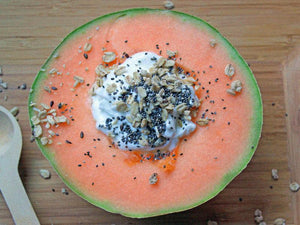 Breakfast in an edible bowl!
Fancy meets healthy with this easy Cantaloupe Breakfast Bowl! If you know me, you know that I am a major fan of breakfast. Breakfast for dinner is my favorite night of the week, and breakfast in the morning is a sacred occurrence. This cantaloupe breakfast bowl is my current obsession. It is so easy to make, fancy enough for guests, delicious and nutritious, and bonus-- no bowl to wash! Read more about all the health benefits of this creative little breakfast or skip directly to the Cantaloupe Breakfast Bowl with Crunch recipe at the bottom!
Why is this Cantaloupe Breakfast Bowl so awesome?
No dishes to clean like a traditional breakfast bowl!
Super quick and easy!
Full of healthy protein, fiber, vitamins, and antioxidants! (more below)
Feels super fancy and will wow your guests or family!
Refreshing and satisfying!
Is Greek yogurt healthy?
Greek yogurt goes through a straining process that makes is lower in sugar, lower in whey, lower in lactose, and higher in protein than normal yogurt. Greek yogurt, especially without any added sugar, is a superfood. It is full of protein, which will keep you satisfied for hours and could give your metabolism a boost. Yogurt also boasts an impressive amount of calcium for strong bones and good bone health, as well as natural probiotics to support healthy gut flora. Some research points to Greek yogurt as being associated with a lower risk of certain diseases like type 2 diabetes. Read more about Greek yogurt
here
.
Is Cantaloupe healthy?
Yes! Cantaloupe boasts tons of health benefits, including a variety of nutrients, vitamins, minerals, and antioxidants. According to WebMD one cup of fresh cantaloupe has 100% of the daily recommended value of Vitamin C, which is great for your immune system. It's also high in Vitamin A (for eyes) and potassium (for blood pressure and muscles). It is hydrating, low in carbohydrates, and may help prevent disease. Plus, it is packed with flavor!
Now, on to the recipe....
Time to stop reading and go give this scrumptious breakfast a try! Or share it with your partner for dessert! Recipe below.