Chicken Bruschetta Recipe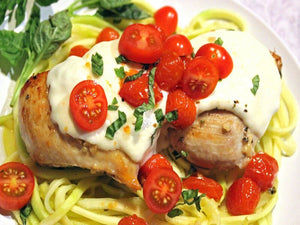 This Chicken Bruschetta recipe is a huge favorite in my house. Like many Americans, my family tends to eat our fair share of chicken, especially chicken breasts. Truthfully? I am often bored by it. A baked chicken breast with a sprinkle of herbs is just not going to do it for me. Funny, because the same treatment of a piece of fresh salmon comes out totally divine.  But that's a topic for a different day. This delicious meal takes chicken over-the-top. The balsamic vinegar mixes with the juices of the tomatoes and the chicken and produces a really delightful sauce. It's perfect over zucchini noodles, shown here, or couscous which really soaks up the flavors. A hunk of mozzarella on top really is perfection.
My husband has always loved chicken parmesan-- breaded chicken covered in red sauce and mozzarella cheese. I started making that dish healthier years ago, by removing some of, and then all of, the fried breading. This chicken bruschetta recipe is a bit of a riff on that meal. Instead of red pasta sauce, we use fresh tomatoes and—what else?—basil. We keep the mozzarella, of course, because it's just so good. I love biting into a big slab of cheesy mozzarella. It's best fresh out of the oven when the cheese is warm and gooey. If you plan to serve the meal a bit more on the lukewarm, you could consider using shredded mozzarella.
What Kind of Vinegar?
This meal can taste different, depending on what kind of vinegar you use. Premium balsamic that you might buy in a specialty olive oil shop will be thick and sweet, almost like a balsamic reduction. It's more like a finishing sauce, for drizzling. This kind of vinegar will only need a few minutes in the pain. Most balsamic vinegars that you get at the grocery store, on the other hand, are thin and bitter. These types of vinegars work well for this dish too and need just a bit more effort. If the vinegar you use is pretty watery, you will need to keep it on the stove a bit longer to thicken it up.
You may also want to add a bit of honey—up to 1 tablespoon, to ensure that the sauce isn't too bitter. I've made this dish with white balsamic vinegar from a specialty store.  White balsamic is even milder and sweeter than the dark version. The dish was very good, but lacked a bit of the complexity that I love. Thus, I recommend you stick with a tradition dark balsamic vinegar.
Making the Chicken Bruschetta Recipe
Step one is to season the chicken and then sear it on both sides. Salt, pepper, and Italian seasoning go on both sides of the breasts. Then pop them in a pan on the stove to brown them on both sides. The chicken will NOT be cooked through. This step is just to get a nice, golden color and flavor. Add the chicken to a 9 by 13" pan. In step two, add the garlic and cook for 30 seconds before adding the vinegar. You want the vinegar to thicken up, like a sauce, which will require about 5 minutes. If you are using high quality balsamic from a specialty store, the vinegar will likely by thick and relatively sweet out of the bottle. If you are using vinegar from the grocery store, it will likely be thinner and bitter.
In this case, you will need to thicken over the heat longer and we recommend adding about a TBS of honey as well. Step three, sprinkle the sliced cherry tomatoes in the pan around the chicken. Once the vinegar has thickened, drizzle the vinegar sauce over the chicken and tomatoes in the oven-proof dish. Now put the whole dish into the oven. Cook for about 20 minutes. Add the slices of mozzarella to the tops of the chicken and cook until melted, another 4 minutes. Garnish with fresh basil and enjoy hot. Serve over zucchini noodles or couscous.
If you love easy, family-friendly dishes like this one, we recommend that you check out our meal plans. We have options for all three meals, dinner-only, or lunch and dinner. They all come with grocery lists and substitution options for picky eaters. You can
try one free today
!