Strawberry Chocolate Chia Pudding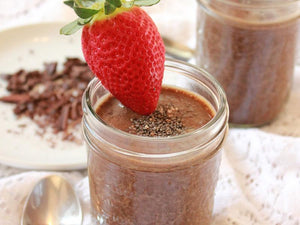 Easy to make and very enjoyable to eat, this strawberry chocolate chia pudding is likely to become a family favorite! This pleasing dish makes an excellent breakfast or an exquisite dessert. Dairy-free, gluten-free, refined-sugar-free, vegan, vegetarian, and of course Mediterranean Diet-approved.
How to Make Chocolate Chia Pudding?
It really couldn't be easier!
Basic chia seed pudding
is just a handful of ingredients: chia seeds, a liquid like unsweetened almond or coconut milk, and an optional sweetener. This recipe takes that simple recipe one step further by incorporating nutrient-dense fruit and heart-healthy dark chocolate. The dates give this pudding its sweetness without any added sugar. (
Research
has shown that dates are health-promoting, acting as a potent antioxidant, anti-tumor, and anti-inflammatory.) If time allows, soak the dates in warm water for 5-10 minutes. This step is optional but will allow the dates to soften and thus blend better. Drain well prior to making pudding.
Afterwards, mix together the almond milk, berries, dates, cocoa powder, vanilla, and cinnamon in a high powdered blender. This makes the liquid good enough to drink! But try to resist. It's worth waiting until you have the final dish. In a medium-sized bowl, mix together the almond milk mixture with the chia seeds very well. Let side 5 to 10 minutes, and then stir again, trying to incorporate any chunks. If the pudding does not gel as much as you would like, your chia seeds might be too old. Try using newer chia seeds.
Alternatively, you can add a few more tablespoons to the liquid. Always allow five to ten minutes and stir at least twice before adding more seeds, as it does take a bit of time for the seeds to gel. If you want the pudding in individual containers, portion it into serving containers now. Otherwise, leave in the bowl and cover. Either way, refrigerate overnight or for at least 3 hours.
Is this Chia Pudding Healthy?
If you still haven't tried Chia Seeds, this recipe is a perfect opportunity! Chia seeds really are a superfood. They have more Omega 3 Fatty Acids than salmon, making them the richest plant-based source around. Omega 3s are well known in the health community for helping us stay sharp as we age. They may also help lower the risk of depression, arthritis, and heart disease.

Our bodies cannot manufacture them, which means we must either eat them or take them as a supplement. When mixed with liquid, these fiber-packed seeds adsorb the liquid and cause it to "gel" like tapioca pudding. In this recipe, we add strawberries for antioxidants and unsweetened cocoa powder for decreased inflammation in the body– and to make it taste amazing, too! If you don't like the way chia seeds feel when you are eating the pudding, you can always add the chia seeds to the blender with the other ingredients. The whole pudding will become smoother.

This chocolate chia pudding is gluten-free, dairy-free, refined-sugar-free, vegan, vegetarian, and Mediterranean Diet approved! Give it a try and let us know what you think!
What Else Can You Do with Chia Seeds?
Once you buy a bag of chia seeds, you are going to want to use them in everything! Here are a few of our very favorite ways to eat chia seeds, aside from pudding of course:
Overnight Oats
Smoothie Bowls
They are also great sprinkled on yogurt, applesauce, toast with nut butter, or salads. Love health promoting foods like chia seeds? Download our
free Immune Boosting Recipe Book
.