Crockpot Taco Tuesday Chicken with Zing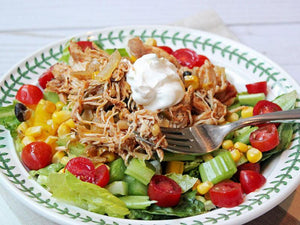 Reasons to love this recipe
Add a few quick ingredients to the Slow Cooker and come home later to a delicious, filling chicken dish. This chicken is perfect for tacos, wraps, salads, or on top of your Mexican Pizza! We use it routinely for Taco Tuesday. The key is to buy a jar of salsa that is mainly whole ingredients, with no or little added sugar. You also want to ensure that you are using just real spices.
You can find taco seasoning now that is just spices. You can also find them that have a lot of additives. Opt for the former or make your own! We love that this shredded chicken also includes corn and onions for plenty of added veggies that you and your family won't even notice!
Corn is packed with fiber, which is important for a healthy digestive tract. It also contains vitamin C, B vitamins, magnesium, and potassium. 
Onions are full of fiber and folic acid, a B vitamin that helps the body make healthy new cells. They also contain vitamin C, antioxidants, flavonoids and phytochemicals, all of which are great for protecting your body against diseases!
Other reasons we love the crockpot:
Frees up space in your oven when cooking big meals
Keeps food like dips and casseroles at the perfect temperature during a party
It is easy to store and easy to clean
It's pretty straightforward to use!
A crockpot tends to be a reasonably priced appliance
The variety of recipes is limitless!
Check out some of our other Crockpot recipes
here
. We are always adding new recipes so check back often or join our email list for the best stuff right to your inbox!