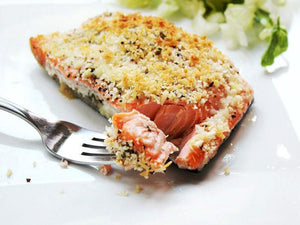 Salmon by any other name....
We had so many other names for this Crumb-Topped Salmon. "One-Sided Salmon Sticks" was a popular choice, as these are similar to grown-up fish sticks with breading on just one side. I liked "Panko Crusted Salmon" but the salmon is only breaded on one side, so 'crusted' was not exactly accurate. I could have named it "Dump Salmon" because in this super easy recipe the ingredients are literally just dumped into a dish. That name, though, not exactly appetizing. We settled on "Crumb-Topped". But. I think we should have called them "The Best Darn Salmon You Will Eat This Year" because that is the truth!
More about this Salmon Recipe
This recipe is a time-tested favorite. We have this Crumb Topped Salmon quite often in my house, and I routinely serve it to company. My kids love that it reminds them of fish sticks (it's how I sold them on it the first time I made it). I love that it's quicker and easier than making fish sticks
and
that the final dish is more delicious! The Panko bread crumbs stay very crunchy; reminiscent of being fried without frying it at all! The wine offers a really nice flavor balance with the garlic and Italian seasoning. Like all our recipes, this one is healthy! Salmon is such a superstar food; read more about its health benefits
here. 
For the chef, this dish is so simple to prepare (just dump it all into a dish!), and then the oven does the work. It doesn't even have to cook very long. Start to finish in 30 minutes flat. My kind of meal! The only real negative with this meal is that it doesn't photograph very well. As I'm assuming that most of you are not interested in photographing your dinners, that seems like a good trade-off.
Modifications on this Crumb-Topped Salmon Recipe
As often as I've made this dish, it's a little surprising that I have not tried it with other types of fish. This is probably because my kids really love salmon, and they really love this recipe. It's hard to muddle with things that are working! However, the flavors in this dish would probably work well with many other kinds of fish. I could see something meaty like swordfish working exceptionally well. You can tell we love salmon around here! Want to try some other Salmon recipes? Here are two more winners:
Lemon Dill Salmon
Oven Baked Salmon
Do you have to use wine in this recipe? Not necessarily. The alcohol in the wine will cook off during cooking, leaving just the flavor behind. However, if you prefer not to use wine at all, you can substitute with vegetable or chicken broth. Just know that the final dish will be a little different.
What you are cooking?
If you make this dish, don't be shy-- use @mediterranean_movement on Facebook or Instagram to show us what you are cooking! We'd love to feature your food on our pages!