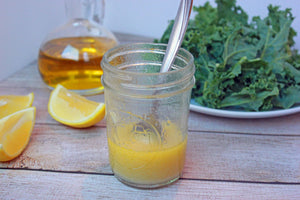 Lemon Garlic Salad Dressing
Is homemade salad dressing healthy? If you love salads, you must try out this homemade salad dressing. It can be mixed up in just a few minutes.
Our lemon garlic dressing is the perfect complement to greens and veggies. It'll take your salads to the next level without much effort.
This recipe uses healthy, budget-friendly ingredients, and it is so convenient that you never have to purchase salad dressing again.
Not only are bottled dressings expensive, but they use preservatives and other harmful chemicals that you can easily avoid by making this homemade salad dressing. This dressing pairs well with a variety of salads and adds a beautiful citrus flavor.
Homemade salad dressing with olive oil
This homemade salad dressing uses olive oil, which gives it a wonderful flavor and coats the salad for the perfect glaze. Olive oil is a heart-healthy oil, and it has numerous health benefits.
Extra virgin olive oil is considered by many health experts to be the healthiest fat on earth. It's the staple fat of the Mediterranean Diet. Thanks to the high percentage of monounsaturated fats and oleic acid present in the oil (which is essential for the body), olive oil is an excellent anti-oxidant.
Also, it contains a good dose of Vitamin E, Vitamin K, and antioxidants to keep you fit and healthy. Research has shown that olive oil can help protect against a whole range of ailments, including stroke, heart disease, Alzheimer's, and cancer.