Pesto Pasta with Veggies and Mozzarella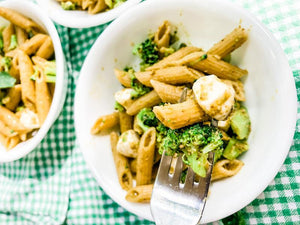 This pesto pasta is one of my family's favorite recipes. I'll bet that if you give you give a try, you will love it also! (It's so easy and customizable, that it's hard to even call it a "recipe"!) I adore that it is:
Super easy and quick
Made mainly from pantry and freezer staples
Nutritious, with tons of veggies and protein
My kids enjoy that it is:
Fun! Those mozzarella balls are a crowd pleaser
Yummy to eat (pesto for the win!)
That's pretty much all you need to impress kids!
Feel free to make this recipe your own by swapping in your family's favorite veggies and pasta. Sometimes we eat this meal twice in one week. As long as the veggies and pasta are different, it feels like a brand new meal! 100% bean, lentil, or whole-wheat pasta is better for you than white pasta. (More about healthy grains here.)
With all the other ingredients, your family may not even be able to tell the difference between the standard white pasta and your healthier variety. (Quick side note: If your family doesn't currently love whole wheat or bean pasta, here's an idea for you. Try mixing while pasta with whole wheat 70% to 30% for a while. As your family gets used to it, you can start to increase the amount of whole wheat pasta until it's 100%. Another option is to serve the pasta with lots of hearty, flavorful sauce-- like the pesto here or a hearty tomato sauce-- so that the pasta itself isn't as noticeable.)
Do you love cooking with pantry staples? If so, we recommend you check out our post here on meals that can be cooked primarily from pantry and freezer staples. It's perfect for when you haven't been shopping in a while-- or for cleaning out the pantry. If you bring this recipe to life in your kitchen, tag us (#medimove or @mediterranean_movement) on Instagram so we can see your creation! Let us know. How does your family like pasta??