Easiest Portobello Mushroom Pizza Recipe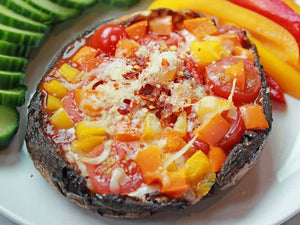 Whether you are watching your calories, eating lower carb, wanting to increase your intake of vegetables in an easy and yummy way, or you just love mushrooms, this Portobello Mushroom Pizza Recipe is for you! Note: Homemade Pizza Sauce Recipe can be found here. 
How long do you cook a Portobello mushroom pizza
In this recipe, we will be cooking the mushrooms for about 20 minutes in a preheated 400-degree oven. If you make other Portobello mushroom recipes, your toppings might change the timeframe a little bit. But overall 20 minutes at 400 degrees is a good place to start.
How do you prepare Portobello mushroom caps
It is surprisingly easy. Handle the mushroom caps carefully so that they do not break or tear. Rinse each one under cool running water, carefully dislodging any dirt. Remove the stems by gently pulling them or twisting them out. You can eat the stems so you are welcome to save them. You could chop them and add them back on top of the caps. To remove the gills, hold one cap in your hand. Using a small spoon, scrape the gills and discard.
Is it OK to eat the gills of a Portobello mushroom?
The gills are a mushroom are totally edible. However, they may not look great in your finished dish. Portobello mushrooms generally have dark-colored gills which could cause your meal to look a little unappetizing. (Sometimes they make the final dish look a little bit brown: definitely NOT what you are going for.) We like to scoop out the gills in this recipe to give us more room for all that filling!
Ingredients and Substitutions
Pizza Sauce:
Many Portobello mushroom pizza recipes call for pizza sauce as a base. I love how thick the crushed tomatoes are for this recipe. I also love that there's nothing artificial or added. If you want a more authentic pizza flavor, you can use pizza sauce instead (store-bought or homemade). Store-bought pizza sauce will be thinner in consistency. Instead of store-bought pizza sauce, you can easily make your own. We have an incredibly delicious (also easy)
5-minute recipe for homemade pizza sauce here
.
Cheese:
If you don't eat cheese, you can skip this step. For that great pizza flavor, we recommend adding mozzarella. We also love this pizza with feta cheese or goat cheese! It's more like a gourmet pizza and will be much lower in lactose if you use feta or goat.
Veggies:
You can really use any combination that you love on pizza. Olives would be a nice touch. I think cherry tomatoes, spinach, and green bell peppers would be pretty great too!
How to make Portobello mushroom pizza
Cooking up this yummy meal is happily straightforward. Prepare your mushroom caps by rinsing under water and removing the gills. (Do you have to remove the gills? Nope! See the section above for more.) Sprinkle with a bit of salt and pepper for extra flavor. Mix together the crushed tomatoes with the Italian seasoning and garlic powder. Or, whip up some
5-minute homemade pizza sauce
. Layer this into the mushroom caps, which you have placed on the greased baking sheet. Now, add the cheese. The final layer is the veggies (or you can do half the cheese on the bottom and half the cheese on top of the veggies). Pop into the hot oven and cook for 20 minutes. Sprinkle with optional toppings like red pepper flakes. Dinner is served!
What to Serve This With?
You could eat two large mushroom caps and be pretty satisfied! Or, try having one cap and pairing it with a green salad and some protein-rich quinoa. We love talking about delicious, healthy recipes like this Portobello Mushroom Pizza recipe on our
Instagram
and
Facebook
pages. Come join us!