Shrimp in Skillet: 20 minute dinner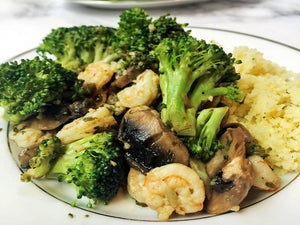 https://youtu.be/sOp5Ouwpsf0
Shrimp in a skillet is so quick
This shrimp in skillet meal is the kind of dinner that we really love. Cooking it takes only a few minutes. From the time you pull up to the stove until you are eating at your table, it's only about 20 minutes. Less time than it takes to order take-out. Short enough that you can endure the whining of the hungry kiddos. (I'm kidding... sort of.)
Leftovers make a second meal
Then, the left-overs can become a totally different second meal the next day. On night one, it's delicious over brown rice or couscous. (Couscous is a superstar because it takes less than 10 minutes to cook!) Leftovers are equally delicious the next day, for lunch or dinner. Serve the shrimp and veggies in lettuce wraps or pitas, topped with tzatziki or hummus. One easy night of cooking and two days of eating! Perfect for busy working professionals, for parents trying to feed little people, or for anyone who wants a nutritious, easy, delicious meal (or two)!
Super adaptable
This shrimp in skillet recipe is adaptable. We love broccoli and mushrooms, but this meal works well with many different kinds of veggies. Bell peppers and zucchini would be yummy with shrimp. Just keep an eye on your pan. Softer vegetables, like zucchini, will take less time to cook than the hearty broccoli. You don't want any vegetables to burn or get mushy. The cumin in this recipe lends a hearty, earthy flavor to the finished meal. We think you will love it! But, if your family does not like cumin, feel free to omit it. With the lemon juice, olive oil, and garlic, this meal will still be a winner. Similarly, you can use pretty much any kind of shrimp for this recipe! You can buy the biggest shrimp or the smallest ones. Bigger ones make a nice presentation but tend to be more expensive.
Fresh or Frozen Shrimp?
What about fresh or frozen? Both work for this recipe! You will need to thaw the shrimp before cooking it. See our note below about thawing shrimp. If you are on the fence about which to buy, we recommend buying frozen. First, frozen is generally cheaper, which means you can get higher quality (like wild-caught shrimp). Secondly, it might be going right into your freezer anyway. We love to stock up when things go on sale. Shrimp are so easy to defrost! Third, and this may shock some of you, frozen shrimp are probably fresher than fresh shrimp! We love the way
this article
explains that most fresh shrimp at grocery stores have probably been previously frozen. (The same goes for fish, by the way! This is not true at all grocery stores, but it is common practice.) Shrimp that come off the boat and are quickly frozen-- and then still frozen when you buy them-- are well "preserved". However, if the shrimp were frozen at the boat, then thawed at the grocery store, you don't really know how long they have been thawed.
Thawing Shrimp
If you do decide to buy frozen shrimp, you will need to thaw them. The easiest way, if you plan ahead, is to let them thaw overnight in your refrigerator. If you haven't planned ahead, you can put the shrimp in a bowl of cold water. Check out
this link
for more details. Make sure you cook the shrimp right away after thawing them, to keep them fresh!
Family Dinner
We love quick and easy meals like this one, especially dinners that cook once and eat twice. With kids, work, and spouses, our weeknights require that we get in and out of the kitchen-- and on to the fun part of eating together around the table! We created this site to help families find quick, easy, nutritious food that everyone could enjoy. We encourage you to take
a look around!
If you love our content, make sure to sign up for
our email list
. Happy eating!