5 Ways to Make Dinner Easier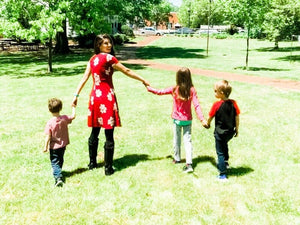 Ashley's story... can you relate?
Quick and easy family meals are pretty much the only meals that get served in my household! It was not always this way. My husband and I were married for a good five years before our first baby came along.
During those years, cooking was my hobby. I loved spending hours looking for exotic new recipes, grocery shopping for all the interesting ingredients, and then the labor of love of actually marinating, dicing, brining, sautéing, roasting, and all the other "ing"s that went into a fine home cooked meal.
When it was just the two of us, we often oscillated between eating fancy, time-consuming meals and just eating "whatever" was available.
I remember as an early parent having the startling realization that my newly acquired kids would need me (or someone like me) to make dinner for them every single night.
And, on account of their early bedtimes, dinnertime would also need to be earlier than my husband and I were used to. The amount of time I had to make dinner between arriving home from work and putting them to sleep was short.
Also, I had little precious time with my kids during the work week, and I did not want to spend all of that time cooking.
And just like that, we embarked upon the era of easy family meals. Luckily for me and all the other home chefs out there, easy does not have to mean unhealthy or boring! Through the years, I learned a number of ways to make cooking every night easier. Here are a few of the best tips. Let us know which one you plan to try! 
Here are some of our favorite tips for making dinnertime easier on the chef:
1. Cook in bulk
Double every recipe you can and freeze half of it for later or use it for another meal. For many meals, it takes virtually the same amount of time to make one serving as it does to make two. In the future, you will love having healthy, yummy meals in the freezer to pull out whenever needed! 
This works especially well for baked goods (including egg muffins), precooked meat (like ground turkey or taco meat), and broth-based soups. 
2. Repurpose leftovers
We love leftovers at my house, but not everybody does. That is why it is great to transform your leftovers into a new dinner.
The grilled chicken and veggies on Monday can be stuffed into pitas with hummus and lettuce for Greek pitas on Tuesday and thrown into a stew for chicken soup on Wednesday.
The stuffing I put in my stuffed peppers often comes from whatever protein, veggies, or grains we have in the fridge, plus a sauce and sometimes a sprinkle of cheese.
3. Buy convenience products
While we discuss here that convenience foods are generally a little more expensive, it is sometimes worth the extra money for the time saved. If cooking in bulk and meal prepping ahead of time are not your strengths, having pre-wrapped vegetables and precooked grains on hand can come in handy.
Instead of chopping up peppers for your homemade pizzas, you can purchase those peppers pre-chopped to save in preparation time.
Bagged salads (prewashed and sliced) or beets that have already been spiralized are a few other examples of foods that can make your dinner prep easier.
Precooked grains can also save on time as they typically will take less preparation time than your entire dinner meal combined. You can find bags of microwave brown rice or quinoa that just need 90 seconds in the microwave. 
Do not forget to check ingredients carefully to ensure that neither sugar, salt, preservatives, or artificial flavorings have been added.
4. Crockpot
We have a whole page dedicated to our beloved crockpot!
Dumping some food into the slow cooker in the morning and coming home to a delicious, finished meal at the end of the day is our idea of an easy dinner. 
You can combine strategies and crockpot a double portion of your soup or stew. Then freeze half of it for another day!
5. Meal planning
Far and away the tool that has made dinnertime the least stressful for us has been meal planning. Knowing what you are planning to cook and eat for the next several days removes the 5 pm panic of "what are we going to eat" and "do we have the ingredients for it".
Check out our healthy Mediterranean Diet meal plans for stress-free dining.
 Do you use any of these strategies to make weeknight dinners easier?
Looking for the proven path to the Mediterranean Diet?
The Mediterranean Diet can help prevent diabetes, reduce heart disease risk, promote weight loss, and help you live a longer, healthier life. It's backed by decades of research.
But the truth is, there's a lot of misinformation out there! It can be really tough to get started.
If you're struggling to begin, our Starter Guide & Recipe Book is the perfect first step! It gives you:
Important principles to start using now
A collection of easy, delicious recipes to make at home
Actionable steps from a nutrition expert
Best of all? It's completely FREE -- our gift to you! You can snag your copy today!