Mediterranean Movement Launches Customized Meal Plans for Diet Restricted and Quarantined Customers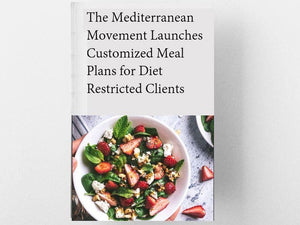 The new easy-to-follow Meal Plan can improve health in just 21 days and save a family of four $200 per month.
Mediterranean Movement launches customized Meal Plans, following principles of the Mediterranean Diet, to optimize health in just 21 days
Traditional, Gluten-free, Dairy-free, and Vegetarian Meal Plans allow customers with many dietary restrictions to enjoy the benefits of the Mediterranean Diet
Meal Plans can save a family of four $200 per month in wasted groceries and countless trips to the store for that "one forgotten item"
Meal Plans help customers in quarantine whose nutrition has deteriorated get back to a healthy lifestyle with a dietitian-approved eating plan
- Today the Mediterranean Movement, a company that helps families optimize their health through Mediterranean Diet living, launched a series of innovative new Meal Plans that include specific dietary restrictions. The new Meal Plans are Gluten-free, Dairy-free, and Vegetarian, in addition to the Standard Family-friendly Mediterranean Diet Meal Plan. The Meal Plans provide customers with a mapped-out calendar of 21-days of nutrition. Each day includes 3 meals, optional snacks, and a categorized grocery list, all conforming to the health-promoting principles of a Mediterranean Diet. The Meal Plans were created by a Registered Dietitian to be health optimizing. Each Meal Plan includes over 45 of the best healthy recipes, selected from hundreds of recipes that we reviewed.
"Although the traditional Mediterranean Diet contains dairy, gluten, and meat, it is possible to reap the health and weight benefits of a Mediterranean-inspired Diet while avoiding these categories of food" said Ashley Keating, founder of the Mediterranean Movement. "Our newest meal plans meet the needs of our customers who must avoid certain food groups due to allergy, intolerance, or personal preference, but who still desire to live their healthiest lives!"
The Meal Plans are especially beneficial to customers who have found their eating and nutrition deteriorating during a prolonged period of quarantine. Too much junk food, too much snacking, and too few vegetables can all lead to feelings of sluggishness, mood irregularity, weight gain, trouble sleeping, and health problems. Meal Plans fix these problems by providing a nutritionally-balanced plan for customers. "The Plan brought my family of four out of an unhealthy cooking rut and set us back on track. It provides a meal plan for the whole week, complete with a grocery list and helpful pictures of the finished product." said customer Timilin S, of Arlington, Virginia. "The recipes are easy to follow and come together quickly. We requested a dairy-free plan to accommodate my husband, and the rest of us don't even miss it. With everything else going on, not having to agonize over what to cook has been a blessing!" The new Meal Plans are available on July 1, 2020. 
Company Summary
The Mediterranean Movement was founded to help families optimize their health and well being. By providing mouth-watering, family-friendly recipes, and science-backed nutritional information in line with Mediterranean Diet principles, Mediterranean Movement helps clients effortlessly and deliciously enhance a family's way of eating. The Mediterranean Movement offers dietitian-created meal plans, nutritional coaching, accountability groups, resources, recipes, and communities, in line with the principles of the Mediterranean Diet. Eating a Mediterranean Diet can have a dramatic impact on a person's mood, overall quality of life, and risk for illnesses like cancer, Alzheimer's, and heart disease. The Mediterranean Diet has been named the Overall Best Diet by health experts three years in a row. The Mediterranean Movement is based on Mediterranean Diet principles.
Are you looking to continue to enjoy sweets while living a healthy lifestyle? 
The Mediterranean Diet can help prevent diabetes, reduce heart disease risk, promote weight loss, and help you live a longer, healthier life. It's backed by decades of research.
But the truth is, there's a lot of misinformation out there! It can be really tough to get started.
If you're struggling to begin, our Starter Guide & Recipe Book is the perfect first step! It gives you:
Important principles to start using now
A collection of easy, delicious recipes to make at home
Actionable steps from a nutrition expert
Best of all? It's completely FREE -- our gift to you! You can snag your copy today!