Family-friendly Dinner Recipe Book (FREE download)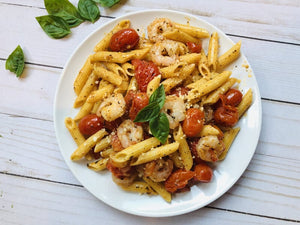 Are you looking for Easy, Delicious Family-Friendly Dinner Recipes that support your overall health goals?
You're in luck! Based on the feedback of our customers, we created a dinner recipe book that you can download below for FREE. Each recipe comes together in under 30 minutes (some in just 15 minutes!), has been tested and loved by families, and follows the health-promoting principles of the Mediterranean Diet! We use ingredients & foods that many kids are already used to so that the meals feel familiar, but we add a healthy spin on them. Additionally, each recipe includes a tip for getting the kids involved so that they feel some ownership over their own plates.
About the Recipe Book:
Hi, Ashley here from the Mediterranean Movement. As the recipe developer (and Mom) behind the scenes, it is my goal to provide you with insanely delicious food that supports, rather than distracts from, your nutrition goals. Together with Jamie, our Registered Dietitian and nutrition expert, our goal is to support your entire family in living a healthier lifestyle. We do this through whole foods and the principles of the Mediterranean Diet.
Many of our families' #1 nutrition struggle is getting a healthy dinner on the table every night.
Many of our clients face the same kinds of challenges. They want to provide food for their families that will support their kids' nutrient needs, as well as provide energy to help them soar through their day. Between work, school, laundry, carpool, and a thousand other commitments, planning for and serving a healthy meal can fall to the end of the to-do list. It's chicken nuggets or take-out again, and everybody leaves the table feeling a little underwhelmed. I understand the battle-- I have three kids at home and a busy schedule, too!
That is why we put together these Quick & Easy Family-Friendly Dinner Recipes.
Each recipe provides a combination of fiber, protein, and fat, as well as many important vitamins and nutrients, to help you and your family feel fueled and energized throughout the day. Additionally, research shows that eating according to Mediterranean Diet principles can help reduce your risk of diseases like cancer, heart disease, and Alzheimer's. Each recipe in this book takes under 30 minutes to make (some only 15!). These recipes use familiar ingredients that you can get at the grocery store and that your kids will likely recognize. And we include a "get the kids involved" tip to help your kids be part of the cooking or prepping process. This will help them feel some ownership over their meal-- and way more likely to give it a try! And hey, when you make these meals, be sure to snap a pic and tag us on Instagram or Pinterest! We love seeing what you are up to in the kitchen, and we'd love to know how your whole family liked the meal. If you are looking for other family-friendly recipes, check out some of our favorites here.
Snag your copy of our FREE Recipe Book

 

Here