How to make a Morning-Changing Smoothie [Infographic]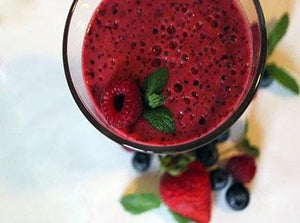 Here's how to make a Smoothie that is as delicious as it is healthy, vegetables included! Don't turn on your blender until you read this! Downloadable Infographic included at the bottom.

The Recipe for Super-filling, Nutritionally-balanced Smoothies
A Smoothie can be a delicious, filling meal that takes only a few minutes to throw together! Perfect for breakfast or a quick snack. However, a smoothie that is nothing but fruit in a blender will probably have you hungry again within the hour. Here's how to make a smoothie that is healthy and delicious. Build your own super-filling, nutritionally balanced, morning-changing Smoothie by following some of our guidelines. Your two goals when making a smoothie should be:
Protein: use adequate protein to keep you full (see protein options below)
Vegetables: to sneak lots of vegetables into your Smoothie (often, you won't even taste them!)
The Blueprint for an Awesome Smoothie
Here's the blueprint for creating a nutritionally balanced Smoothie. Just swap ingredients until you find one, or several, that you love! Smoothie Blue Print:
Veggies (fresh or frozen): frozen riced cauliflower or greens like spinach or kale

Protein: Greek yogurt, pasteurized egg whites, hemp hearts, cottage cheese, etc

Fruit (fresh or frozen): bananas, berries, mango, everything works

Liquid: milk or non-dairy milk (almond, coconut, etc), or water

Ice (optional): add a few ice cubes to lend some frostiness

Healthy fats (optional): chia seeds, avocado, peanut butter, nut butter

Sweeteners (optional): a few dates, honey, or maple syrup

Spices (optional): cinnamon, vanilla extract, cocoa powder
Make your Smoothie like a pro with a few tips:
1. Protein: The Mediterranean Diet generally does not recommend supplements like flavored protein powders. However, protein powders are generally a bit of a grey area and could be a good convenience option if you find one without additives and without (much) added sugar. Good powdered options include: unflavored collagen powder (collagen peptides) or powdered egg whites (containing only egg whites). We recommend that you rely more often on adding real protein sources such as pasteurized egg whites, cottage cheese, hemp hearts, chia seeds, or Greek yogurt. 2. Veggies: Spinach and Kale are having a moment these days. You can turn any smoothie green by popping in a few handfuls of something green! Often, you can't even taste them. Frozen riced cauliflower blends effortlessly into Smoothies. The color doesn't even change, so you can add these to kids' Smoothies for a virtually undetectable nutrition boost! You can hardly go wrong with veggies. Lettuce (without dressing) is a great addition. Raw, unpeeled cucumbers add a refreshing boost. Try using frozen greens to make prep easy. 3. Bananas: We love frozen bananas. Simply peel them, chop or break them into pieces, and pop them in a bag in the freezer for another day. As a result, the consistency becomes like frozen yogurt when blended. 4. Blenders: If you don't have a high powdered blender, you will want to add ingredients one at a time, starting with the liquid and your first vegetable, so that everything blends together smoothly. (The last thing you want are chunks of frozen kale, big enough to chew.) We love the Magic Bullet by NutriBullet because you can make one single server smoothie at a time, without having to wash anything, and it's powerful enough to handle our greenest smoothies. 5. Sweeteners: We generally recommend that you leave out any honey or other sweetener until you taste your creation. Often the fruit makes it plenty yummy. But if your smoothie is not so great, feel free to add a bit of honey or maple syrup that make it a bit more palatable. See some of our favorite recipes that give you a good idea of how to make a Smoothie. These make one huge smoothie or two smaller smoothies.
Mango Dreamsicle Smoothie:
1 cup frozen mango
1/2 banana (frozen for creamier consistency)
1/4 cup frozen riced cauliflower
1 tsp vanilla extract
3/4 cup unsweetened non-dairy milk or unsweetened orange juice (or more if needed for blending)
Top with 1 TBS hemp hearts for protein
Optional: ice, for frostiness
Peanut Butter Cup Smoothie:
1 banana (frozen for creamier consistency)
1/4 cup frozen riced cauliflower
1/2 cup unsweetened non-dairy milk (or more if needed for blending)
2 TBS no sugar peanut butter
2 TBS unsweetened cocoa powder
1 TBS honey (taste first and then add)
1/2 cup Greek yogurt
1/2 ice (for frostiness and volume)
Strawberry Green Power Smoothie:
1 cup fresh mixed greens
1 banana (frozen for creamier consistency)
0.5. to 1.0 cup unsweetened non-dairy milk (adjust amount to blend)
1 cup frozen strawberries
0.5 TBS honey to sweeten (optional, will depend on how sweet your berries are)
1/4 cup Greek yogurt
1 TBS chia seeds
Optional: ice, for frostiness
Some other Smoothie Recipes for you to try: Strawberry Smoothie with Almond Milk, Mint Chocolate Chip Smoothie, and Very Berry Smoothie Bowl
Smoothie Q&A
In some circles, smoothies have gotten a bad rap. We are here to bring the Smoothie back! Here are a few questions that we've gotten on Smoothies recently.
Are Smoothies part of a Mediterranean Diet?
People in the Mediterranean region are not known for drinking Smoothies. But, as a reminder, the Mediterranean Diet is a set of principles based on the best health practices of people in that region. As long as the foods and drinks that you are consuming fit within these principles, it's a great fit for a Mediterranean Diet. Smoothies that are made with whole food, plenty of healthy vegetables and fruit, and a balance of great protein or healthy fat check all the Mediterranean Diet boxes. In fact, smoothies can be a great way to easily and deliciously increase your intake of fruits and vegetables. This yummy beverage is also a nice way to get in nutrients that you might not otherwise enjoy! For example, if you dislike beets, popping a beet into a berry smoothie is a great way to get the amazing health benefits of the beet within the overwhelming flavor. Another example is hemp hearts. Hemp hearts are a complete protein and so good for you, but they can be hard to consume. You probably aren't going to just pop a handful into your mouth. You can easily put a tablespoon or two into your smoothie, though. Or do like I do and put those hearts on top. It reminds me of eating sprinkles on ice cream.
Does Blending the Food Destroy the Fiber?
This is an interesting myth that has been circulating. Luckily, the answer is a firm NO, blending food does not eliminate the fiber. The amount of fiber that goes into the smoothie is the amount of fiber that goes into your body. Some recent reviews found that while the fiber remains intact, blending breaks down the cell walls. This means that it's easier for your body to absorb more of the nutrients. Three cheers for Smoothies! (A point of clarification: if you are JUICING, then you are removing the juice from fruits and veggies and throwing away the fiber. Juice does remove the fiber. Blending, where you put the whole fruit into a blender, preserves the fiber.)
Shouldn't We Eat Our Food Rather Than Drink It?
Generally speaking, we do recommend that your calories come more from chewing actual food than from drinking beverages. Smoothies are a bit of an exception since they do contain all the fiber and protein of the food that went into the blender. (This is in contrast to juice, which does not contain any fiber.) Just remember that the Mediterranean Diet is all about balance. You don't want a Smoothie for all three meals. Make sure that some of your meals do require you to chew. Some people find that drinking a Smoothie does not make them feel satisfied in the same way that eating a meal does. If this is you, we recommend that instead of drinking your Smoothie with a straw, pour your Smoothie into a bowl and eat it with a spoon. Putting on some yummy toppings can help your brain recognize it as a "real meal". It's always best, and a Mediterranean Diet best practice, to sit down and eat your food slowly. This is true for Smoothies, too! Some people find that eating a Smoothie bowl alongside something chewy, like a piece of whole-wheat toast, can make a perfect, satisfying breakfast.
To other bloggers and news professionals: feel free to use our images; just make sure to link back to this post.