Top 10 Ideas to Make Family Dinner Fun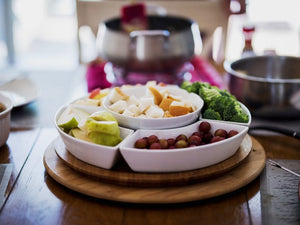 A collection of 10 innovative ideas to help make family dinner fun again! If you have kids, this article could change how you have dinner together!
Top 10 Ideas to Make Family Dinner Fun
Ready to make family dinner fun again? We all know that
research
continues to demonstrate the importance of having dinner together as a family. What research doesn't show, though, is what to do when eating together with your kids is
more challenging than it is rewarding
. From toddlers who won't sit at the table to kids whining over what you are serving to teenagers with cell phones, the challenges to a peaceful meal together can seem overwhelming. We have found that purposefully making dinners more fun can make everyone happier to eat together! As a family with 3 kids, we have tried many different tactics for infusing some FUN into family meals-- both for the kids and for the adults. Here are our tried-and-true TOP 10 ideas for making dinnertime fun again! Let us know if we have missed any. If you give any of these a try, share how it went with us using #medimove on social media!
1. Fondue Dinners
This is one of my family's favorite activities. With older kids or adults, hot broth fondue to cook raw meats and veggies makes for an awesome dinner. For families with younger kids, the hot broth and the raw meat are potential hazards, so we normally stick to cheese fondue. And, of course, chocolate fondue for dessert is a must! I highly recommend an electric fondue pot that plugs into the wall, so the liquid stays evenly hot.
2. Host a Family Picnic
Set up a blanket, get out the picnic basket, and serve your dinner on the floor. It's amazing how special this feels. You can do this indoors or outside: it's equally fun either way! Make sure to serve easy, finger-type foods, like this
strawberry bruschetta
,
farmer frittata
, or
Chicken Wraps
.
3. Encourage conversation with "Good and Bad Moments"
We use a conversation prompt like this at dinner pretty much every night. We go around the table and have everyone share their best and worst moments from the day. Often, we mix it up and ask about a moment when each person helped someone else, felt scared, or other moments.
4. Play games to make family dinner fun
This is especially good for younger kids, who are still learning the art of table conversation. Some of our favorites include "I Spy" and "Would you Rather"? (My kids get pretty creative with that last game!) You can find some other great
game options here.
5. Break out the fancy tableware-- even candles!
There is something about candles and a tablecloth that puts everyone on their best behavior. Whether you want to celebrate a little accomplishment or just relish the fact that it is Friday, you can make a regular meal feel extra special and fun by setting the table as your might for company.
6. Theme nights can bring back the fun
Having a theme seems to make the environment a little livelier at times. Themes could include food-focused ones like "Taco Tuesday", "Slow Cooker Sunday", and "Make Your Own Pizza Night", or your theme could be food from different countries around the world. You could have your family dress the part, have some conversation prompts, or have each family member do a little research and present what they brought to the table. Some food ideas to help you out:
Taco Tuesday
and
Slow Cooker Sunday
.
7. No silverware dinners
Some days it is hard to get my kids to use the silverware that is at the table. So occasionally, we make a meal of all finger foods and officially ban silverware. Foods such as savory dips with pita bread, cheese cubes, sliced fruits and veggies, and kabobs on skewers all make great options. The kids love it, and if I am being honest, it is pretty fun for the adults to act like kids again, too!
8. Play restaurant
Put your kids in charge of serving the meal. (Older kids could prepare it as well!) They can tell you the daily specials, take orders, bring out plates, and clear the plates at the end. My kids love doing this—they will often draw up elaborate menus and restaurant signs. As a plus, getting them to clear the table is not a struggle for this one meal!
9. Eat a "progressive meal"
Eat your meal in courses, all over the house. You could start with appetizers on the front porch. Then move to salad at the dinner table. Have your main course in the kitchen. Finish with dessert in the backyard (we recommend some of
these healthy desserts
).
10. Serve a customizable dinner for family dinner
Anything that gives your family members control over their plate can be great fun. Make your own pizza where each member builds and eats the pizza of their dreams is a fun option. An oatmeal bar is another great choice (for "breakfast for dinner") because each person can add on fruit, nuts, seeds, and all kinds of toppings. Let us know! What did we miss? Do you try any of these fun options with your family?
Are you looking to continue to enjoy sweets while living a healthy lifestyle? 
The Mediterranean Diet can help prevent diabetes, reduce heart disease risk, promote weight loss, and help you live a longer, healthier life. It's backed by decades of research.
But the truth is, there's a lot of misinformation out there! It can be really tough to get started.
If you're struggling to begin, our Starter Guide & Recipe Book is the perfect first step! It gives you:
Important principles to start using now
A collection of easy, delicious recipes to make at home
Actionable steps from a nutrition expert
Best of all? It's completely FREE -- our gift to you! You can snag your copy today!