The Ultimate Mediterranean Diet Grocery List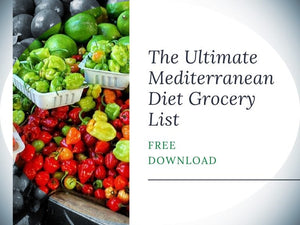 Do you find yourself strolling up and down the aisles stocking your cart with foods that you may not have planned to buy? We've all been there... walking up and down aisle after aisle, filled with tempting sweets and packaged goods, kids at our sides requesting the sugary cereal, then landing in the freezer section with ice cream galore. Those foods then make it into your home and become a part of your meal routine. So, how do you break this cycle?
Head to the grocery store prepared with a list in hand!
To make shopping a breeze while feeling confident you're heading out the door with nourishing foods in hand, preparing a grocery list ahead of time is key! Read on for a few of our other tips for a successful trip to the grocery store.
Four Steps to a Successful Trip to the Grocery Store:
Don't go when you are hungry (have a healthy snack or eat a meal ahead of time).

Prepare a grocery list! (more on this below)

Shop the perimeter first: produce, refrigeration, and freezer aisles.

Only head down the innermost aisles for necessary items (grains, legumes, oils, herbs, and spices). Skip the aisles you don't need to head down if there isn't anything down there from your list.
Don't know where to start with your grocery list? We know your time is valuable and you may not have the time to put a list together before you head out the door, so we put one together just for you!
Whether you are new to the Mediterranean Diet, or a Mediterranean Diet guru, this Ultimate Mediterranean Diet Grocery List is filled with nutrient dense foods to help guide your grocery store excursion week after week! You will feel confident knowing your shopping cart is stocked with delicious and nutritious Mediterranean Diet foods including:
Change up your typical meal routine and explore a new food each week

Have your kids circle their favorite food from each group and find a recipe that incorporates all of those ingredients

Check out our

RECIPES

for some inspiration on how to prepare these new foods!
Don't forget to download and print your FREE Mediterranean Diet Food List PDF HERE. We recommend placing it on your fridge or inside your pantry door so you always have a little bit of inspiration by your side.