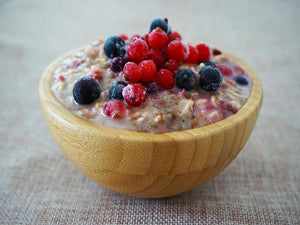 Welcome to your new favorite bowl of oatmeal.
Something warm and cozy
Is it cold outside? Here in Virginia, it's been in the 20s in the morning. I'm sure that some of our more northern readers are laughing at how down-right balmy that is, but for us in Virginia, that's freezing! (Also, it is, technically, freezing…) Luckily, it's warm in this bowl of oatmeal! My husband asserts that putting something warm IN your body is a faster way to warm up than putting something warm ON your body. Maybe he just loves any excuse for hot chocolate. I'll happily go along with his thought if it means I get to dig into this yummy, steaming bowl of oatmeal! It's a great way to start a frosty morning. Let us know if it warms you up. Simple, delicious, and full of fiber for staying power, this oatmeal virtually guarantees a great morning.
Why Oatmeal?
Oats are actually some of the healthiest grains you can eat!
Fiber
Oats are full of fiber and healthy carbohydrates that can help keep you feeling full and energetic. The fiber in oats is primarily soluble fiber and has been linked to a reduction in unhealthy cholesterol levels. This type of fiber can also help lower blood sugar levels.
Protein
Did you know that Oats also contain more protein than most grains? In half a cup, you will find 13 grams of protein!
Vitamins
They are also brimming with vitamins and minerals, including Zinc, Iron, Vitamin B1, Vitamin B5, Copper, Magnesium, and Folate. Oats are also full of antioxidants that may help reduce blood pressure and reduce your risk of heart-related conditions.
Oatmeal for Weight Loss
The fiber in oatmeal takes a while to leave your stomach, helping you feel fuller longer. This, in turn, may help you eat less, leading to weight loss.
Studies
have also shown that this kind of fiber may promote the release of a satiety hormone that has been linked to reduced calorie intake.
And more!
In their natural state, they are also gluten-free, dairy-free, nut-free, and vegan/ vegetarian.
More ways to eat oats
If you love oats and want to try more ways to eat them, give some of our other oatmeal recipes a try!
Pumpkin Overnight Oats
Slow Cooker Apple Oatmeal
Oatmeal Recipe Notes:
Canned coconut cream will be higher in fat and calories, but yield a creamier oatmeal.