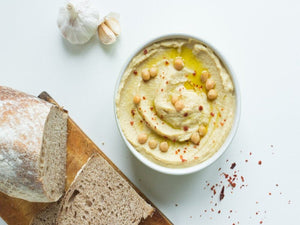 The Best Homemade Hummus
Perfect for dipping veggies into, slathering on a wrap, or tossing with warm, cooked pasta, homemade hummus is incredibly versatile. It takes just a few minutes to make and keeps very well in the fridge for several days. You can add all kinds of ingredients to change up the flavors, too. Some of our favorites include: extra garlic, roasted red peppers, sun dried tomatoes, and hot sauce to make buffalo hummus.
Healthy hummus
Since hummus is made with beans and olive oil, the resulting healthy dip is full of protein, fiber, and healthy fats. It will keep you feeling happy and satisfied for hours. Since it's made without dairy, it's a great option for vegans or vegetarians-- or anyone who wants a little creamy goodness in their life. My kids love eating it with veggie sticks, like carrots and bell peppers. It'll keep them full for hours longer than ranch dressing!
Homemade hummus can sometimes be spotted as homemade because it's not as creamy as the store-bought kind. This recipe changes all of that. The order of ingredients makes a big difference in how creamy your spread is, and we've got that covered for you. You also want to use a high quality food processor and let the hummus blend for a while. (No three minute hummus here! Letting the hummus really blend makes it super creamy.)
How to make hummus
Follow our recipe for the most delicious homemade hummus. We recommend adding ingredients a bit at a time so that everything is able to fully blend and incorporate. First, drain the cans of chickpeas, reserving some of the liquid in the can called aquafaba. You will want between 4 and 6 TBS of this liquid. If you forgot this step, you can use water instead. (You will likely need a bit more water than chickpea liquid.)
Now, you want to get that tahini nice and creamy. In a high quality food processor, add the tahini, lemon juice, and olive oil. Turn on the processor and let it blend for two minutes, scrapping down the sides as necessary (at least once). Now you can add the chickpeas, 4 TBS of the reserved liquid, garlic, cumin, and salt to the bowl of the food processor.
We recommend adding just one can of chick peas at a time and letting it blend for at least a minutes. Then add the second can of chick peas. Blend for at least another minute, scrapping down the sides at least once each time. At this point, take a look at your hummus. You may want it to be a bit creamier or wetter. In this case, add the remaining 2 TBS of the reserved liquid and process for another few minutes. How much liquid is needed can depend on how well drained your chick peas were, as well as personal preference. We usually like 5 to 6 TBS total.
And that's it! So easy. Hummus is a staple in the Mediterranean Diet and with good reason. In addition to being quick & easy to make, it tastes amazing and adds nutrition to anything you slather it on! If you love our content, make sure to sign up for our newsletter here. You will get all our best stuff, plus exclusive content and deals.