Mediterranean Stir Fry (NO soy sauce)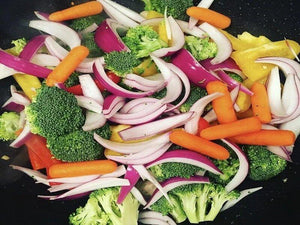 What is Stir Fry?
Stir fry is a traditional Chinese cooking technique where vegetables or meat are "fried" or sautéed in a wok, using just a small amount of hot oil and stirred constantly. This method of cooking has spread beyond China, as it is a fast, easy, and healthy way to cook meals.
Stir fry also allows you to use just about any kind of produce (veggies) and protein that you have. Traditional stir fry proteins include chicken, shrimp, tofu, and other proteins like beef. The possibilities are endless!
Please note, this article includes affiliate links. As an Amazon Associate, we earn from qualifying purchases. 
Is Stir Fry part of the Mediterranean Diet?
While stir fry originated in China and is not a meal that was traditionally eaten in the Mediterranean countries, this healthy stir fry is an amazing option for people looking to follow the principles of the Mediterranean Diet. Some of these principles include: eating more vegetables, enjoying more home-cooked meals, and making meals without additives. This stir fry helps you do all three! (For more information on what the Mediterranean Diet is, check out this blog.) 
What Makes this Mediterranean Stir Fry Healthy?
Topped with herbs and spices this Mediterranean Stir Fry can satisfy almost any type of eater without the added sodium or creamy sauces. This stir fry doesn't use any of the traditional soy sauce, and is thus, healthier for people watching their sodium intake.
Additionally, the vegetables retain more nutrients than if they were boiled in water. (Vegetables boiled in water lose more nutrients than vegetables cooked through other methods.)
Our Go-To Proteins for a Mediterranean Stir Fry:
While you can use any protein that you please, chicken breast and shrimp are our favorite protein choices for the ultimate Mediterranean Stir Fry! Just be mindful of cooking times when using shrimp instead of chicken as shrimp will only need 1-3 minutes per side. Shrimp stir-fry is one of the fastest healthy dinners you can make!
Our Go-To Vegetables for a Mediterranean Stir Fry:
Bell Peppers

Red Onion

Spinach

Cherry Tomatoes
Making a Mediterranean Stir Fry at the end of the week and looking to use up those leftover veggies you have on hand? Feel free to swap in mushrooms, broccoli, frozen peas, cauliflower, and carrots too. The above veggies are just our favorite combo for texture and flavor!
Our Go-To Herbs and Spices for a Mediterranean Stir Fry
Oregano

Basil

Thyme

Garlic

Red Pepper
The art of cooking allows you to explore different herbs and spices to your liking - no measurement needed! Nervous to experiment with herbs and spices on your own? Using a Basil Pesto  is a great substitute too! 
Notes:
If you don't have a wok, you can use a large frying pan.
Use up the veggies in your fridge with an easy, delicious, healthy Mediterranean-inspired stir fry!
Enjoy your stir fry with a side of brown rice, mixed in with whole wheat pasta (we prefer rigatoni style pasta for this stir fry!), or chickpea pasta for some added protein! 
Tag @mediterranean_movement on Instagram or Pinterest to let us know what you made.
More
If you love quick and easy meals, check out our Quick & Easy Meal ideas! You might also like our Quick Meal Swap ideas for making your typical dinners even healthier!
How We Can Help:
If you love tasty, fresh, healthy recipes, we invite you to try out our Mediterranean Meal Plans.
Created by our Dietitian Nutritionist Jamie with you and your family in mind, our plans incorporating Mediterranean Diet Principles throughout each week. You get a well-balanced diet, with way less stress. Each meal plans comes complete with an organized grocery list to save you time. 
Do you or a family member have specific dietary restrictions?
We offer a variety of options, including dairy-free and gluten-free.