Salt Intake and the Mediterranean Diet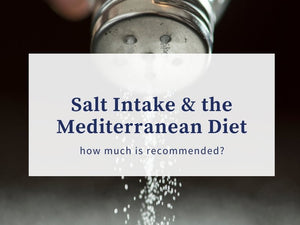 https://www.youtube.com/watch?v=7gYKbwUGKas Watch the quick video or read the article to learn how much salt per day is recommended and what to do about your sodium intake.
How Much Salt Per Day is Recommended by the Mediterranean Diet
By Jamie Adams, Registered Dietitian and Mediterranean Diet Expert 
At some point, you have likely asked yourself, "how much salt per day is considered healthy"?
Today's topic from a question we recently received is salt intake on the Mediterranean Diet. And specifically, whether we should be adding salt to the foods we eat throughout the week.
Recently the dietary guidelines came out that we should be limiting sodium to 2300 milligrams per day. This is about the same as one teaspoon of table salt. One tsp of table salt gives you just over 2300 milligrams of sodium, and we want to limit our salt intake to that per day.
Where Does Sodium in our Diets Come From?
Aside from adding salt to our food, salt hides in many of the foods we eat on a day-to-day basis.
It's found in the majority of processed foods such as pizzas, canned and frozen fruits and veggies, frozen meals, and meals dining out including fast foods but also standard restaurants. It's also found in foods that are regularly consumed on the Mediterranean diet including cheese, like feta cheese, as well as whole-grain breads.
If you aren't making your bread at home, commercially prepared breads do contain some sort of sodium at baseline.
We also find it in olives. Olives are brined in salt.
Is Salt Unhealthy?
It's not to say that these foods are unhealthy.
We do want to consume SOME amount of sodium throughout the day. It's just that we want to limit the sodium we consume to less than 2300 milligrams.
What Does the Mediterranean Diet Recommend?
The Mediterranean Diet at baseline is NOT a low sodium diet. This Diet is a moderate sodium diet if you are following the guidelines.
So, it's recommended that we don't add additional salt to our food that we are eating throughout the day, since most of us are already getting enough sodium. If a recipe does call for some salt in a recipe that you are preparing at home, it may be best to cut the salt in half if possible (if it doesn't change the structure of your food. Some baking recipes require the salt for structure.)
Or you could try swapping out adding salt for fresh herbs and spices.
How to Reduce Salt Intake?
A quick note: as you reduce your sodium intake, your taste buds will begin to respond in a week or two.
Your plan could be to add less and less salt to your food each week and let your taste buds recalibrate before continuing to reduce the salt intake.
Also, watch your processed food intake (the Mediterranean Diet recommends we limit our processed foods for a bunch of health reasons too!). If you are eating tons of processed foods, your taste buds will likely be used to more salt-heavy flavors.
This can make the food you make at home, especially without added salt, taste a bit bland. Last night, I prepared some roasted beets with a drizzle of olive oil, rosemary, and thyme. I also made some chicken with some lemon and olive oil, a little bit of garlic, and a little dill.
This is the time to play with your fresh herbs and spices. Make up some spice blends that you would find interesting.
For More Inspiration
Follow us on Instagram and here on our website for great recipes that encourage fresh spices and herbs.
As a reminder, this information is for general use and is not medical advice. While Jamie is a Dietitian, she is not YOUR Dietitian. Everyone's health is unique.
If you want to work one-on-one with Jamie or another amazing Mediterranean Diet Dietitian, you can do that here!
If you are interested in getting up and running with a Mediterranean Diet as quickly & easily as possible, don't miss our Jumpstart to the Mediterranean Diet Program. This 4-Week Program hand-holds you through changing you diet, a little each week. Start today!