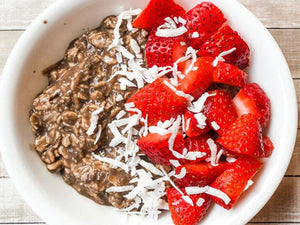 Welcome to your new Favorite Breakfast
Overnight Oats are my family's favorite breakfast.
We recently took a week vacation and brought an entire, unopened container of oatmeal with us. By the time we checked out, we had eaten the whole container. That's how much oatmeal we eat.
We love how cold and creamy overnight oats are, how nutritious and filling, how easy (this Momma loves anything make ahead!), and especially how versatile! You can mix up what's IN overnight oats (pumpkin pie flavored, apples and cinnamon, berries of all varieties, and of course, chocolate) and you can vary what's on TOP of your bowl!
Personal favorites include: fruit like berries or sliced bananas, dried fruits like chopped apricots, sweets treats like chocolate chips or coconut flakes, and healthy add-ons like nuts and seeds. I personally LOVE a big dollop of plain Greek yogurt on top.
Chocolate in the Morning
Chocolate overnight oats are far and away my kids' favorite breakfast and favorite overnight oats flavor. Who can blame them? Chocolate for breakfast feels decadent and delicious.
I love how oatmeal keeps my kids' tummies full for hours and their blood sugar levels stable. The chia seeds give even more protein and fiber for staying power (as well as Omegas for a brain boost!).
Even with the tiny bit of sugar that is in this recipe, they don't have the sugar high and crash that cereal will give them. The sugar in this recipe is waaaay less than standard breakfast fare.
A note about Liquid
A quick note about the liquid in overnight oats!
The amount of milk you need to use can vary based on how watery you like them. My middle son loves them a little soupy, but my daughter prefers them more like regular oatmeal. We add slightly less than 2/3 cup of milk overnight and then my son stirs in more in the morning. (This works fine!)
Also, the brand and age of your chia seeds will mean that they absorb more of less liquid (older chia seeds won't absorb as well).
We recommend that you experiment to find what works best for your family and ingredients. Virtually any kind of milk will work; you are not limited to almond milk.
Let us know your Thoughts!
Give this recipe a try and let us know what your favorite toppings are!