Save Time With Healthy, No Cook Meals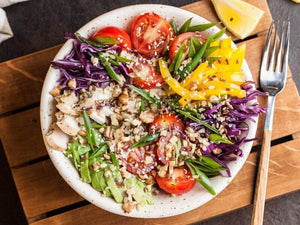 Check out these healthy, no-cook meals for busy days! This post includes 7 delectable meal ideas for any time you are too busy or tired to cook. 
Quick and no cook meals for busy days!
We've all had those crazy days when you come home starving and just don't have the time or energy (or both!) to spend 30 minutes in the kitchen cooking. Some weeks, it feels like every day is like that. This post is for any of you who are having that kind of week (month, year...)
These are some of our favorite, no-fuss meals for whenever you are tempted to order take-out or microwave chicken nuggets.
For nutritious, easy meals, focus on the Mediterranean Diet principles: whole foods, lots of veggies, low sugar, and some healthy protein. Let us know your favorite no-cook meals and light-cook meals in the comments below!
Please note, this article includes affiliate links. As an Amazon Associate, we earn from qualifying purchases. 
No cooking required for these healthy meals:
These meals really don't require recipes. We invite you to throw them together with whatever you have in the pantry and fridge. But, we've included links for similar recipes if you feel more comfortable cooking with one.
Hummus and veggie wrap (no cook):
Slather a whole wheat wrap with clean-ingredient, store-bought hummus. Layer on top of the hummus any veggies you have in the fridge:
greens like lettuce or spinach
diced tomatoes
chopped peppers
sliced cucumbers
Add in some canned beans for extra fiber. If the hummus is not flavorful enough, you can drizzle with a little salad dressing. PS this is our favorite flavorful hummus that we use-- or you can make your own of course!
Now, roll it all up and dig in! (If you find the ingredients falling out the bottom, you can fold the bottom half up like you are wrapping a present. You could also wrap up your wrap with aluminum foil, just like they do at Chipotle.) 
A big old salad with some protein (no cook):
Choose a base (lettuce, raw spinach, leafy kale, etc) and add in any veggies that you have on top. Cucumbers, peppers, and tomatoes might be customary, but we love salad with broccoli, brussel sprouts, and mushrooms too! 
You can add a little fruit for variety (sliced oranges or raisins are nice with greens).
Then make sure you have some type of protein (animal or vegetarian) so you have a complete meal: chickpeas, store-bought hummus, low-fat cheese, canned tuna, pre-packaged chicken, hard-boiled eggs, or left-over chicken or fish are all great options.
Add a squeeze of lime juice or a little salad dressing on top. Yum!
Mediterranean Bowl (no cook):
If you have left-over grains (brown rice, quinoa, etc), you can throw them in a bowl. Then, top with whatever veggies you have in the fridge or freezer.
You could also use a can of beans as the base.
Finish with a drizzle of salad dressing, sauce, or salsa, and dig in.
(Find this recipe in our free Recipe Book Download.)
Tex-Mex Tuna or Chicken Plate (no cook):
Pop open a can of tuna or chicken (chicken is more traditional).
Drain it and rinse well.
Now, mix it up with some jarred, no-sugar-added salsa.
Add a side of steamed frozen veggies and canned beans (drained and rinsed). Heat in the microwave. Top with cheese if desired. 
How to Make your Life Easier: 
If you find that you never seem to have veggies, grains, or protein on hand, we have a few solutions.
Stock you freezer with easy to cook frozen veggies. Things like frozen corn, frozen mixed veggies, and frozen broccoli are super easy to reheat (microwave or steam). Frozen vegetables last a very long time in your freezer. 
Next, grab some cans of beans/ lentils, tuna/ chicken, diced tomatoes, and green beans. Keep these items in your pantry so they are always available to you. Make sure to drain and rinse very well before using (this reduces extra salt). We recommend buying the no-salt-added varieties when available. 
Finally, find some precooked grains. Standard grains take a long time to cook, so having a convenience option on hand can be a lifesaver. Traded Joes & other stores sell frozen brown rice and other grains. These grains have already been cooked-- they just need to be reheated. You can also find boxes of microwave rice that have already been somewhat cooked. They are easily reheated in the microwave. Make sure nothing additional (like oil) has been added.
Another options for making your life easier? Cook up big quantities of rice or grains on the weekend and keep it stashed in your fridge.
Some light cooking for these Quick and Easy dishes:
The meals above required absolutely no cooking. The recipes below require some light cooking-- but are well worth it. They are still incredibly quick and easy!
Breakfast for dinner (quick cook):
Scramble up some eggs, add a side of fruit or a side salad (or some steamed frozen veggies), and/or some toast.
You can add jarred salsa or hot sauce to your eggs for variety.
Oatmeal is also a delicious, filling meal in the evening as well as the morning.
Add some protein in the form of nuts or chia seeds and go easy on the sweetener. Fruit, especially thawed frozen berries, are a great way to naturally sweeten without added sugar.
Pasta the Mediterranean way (quick cook):
A box of whole-grain, all-lentil, or garbanzo (chick-pea) pasta can make a great meal with a jar of no-sugar tomato sauce. The trick is to add a ton of veggies! Steam up some frozen broccoli or cauliflower and fill your bowl with half pasta and half veggies.
Dump the sauce on top. If you prefer to have a recipe, check out our Pesto Noodle Medley Recipe!
English Muffin Pizza (quick cook):
Cut a whole wheat or Ezekiel English muffin into two halves. Top with crushed tomatoes (either tomatoes that you crush up, or a can of crushed tomatoes drained slightly).
Add lots of toppings-- preferably veggies like chopped peppers, mushrooms, onions, olives, etc. Add a little crumbled feta on top. Cook for a few minutes in a hot oven.
You can find a recipe for this meal in our FREE Recipe Book Download. Let us know some of your favorite meals when you are pressed for time or just don't want to cook!
Are you looking for the easiest way to live a healthy lifestyle? 
The Mediterranean Diet can help prevent diabetes, reduce heart disease risk, promote weight loss, and help you live a longer, healthier life. It's backed by decades of research.
But the truth is, there's a lot of misinformation out there! It can be really tough to get started.
If you're struggling to begin, our Starter Guide & Recipe Book is the perfect first step! It gives you:
Important principles to start using now
A collection of easy, delicious recipes to make at home
Actionable steps from a nutrition expert
Best of all? It's completely FREE -- our gift to you! You can snag your copy today!